Cafe Rio Sweet Pork & Creamy Cilantro Dressing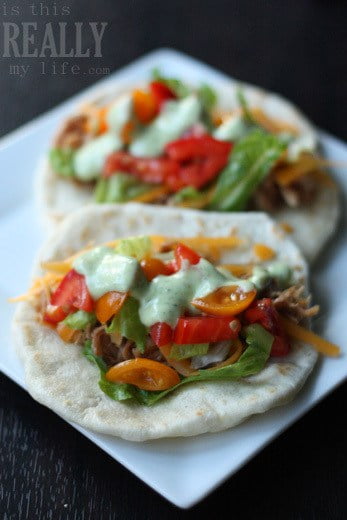 Author:
Emily ~ isthisREALLYmylife.com
3 lb pork roast
1 chopped onion
2 cloves garlic, minced
3 T butter
2 T soy sauce
¾ cup lemon juice
1¼ to 1½ cup brown sugar
1 tsp salt
½ tsp pepper
Creamy Cilantro Dressing
2 T salsa verde
¼ to ½ tsp cayenne pepper
1 pkg buttermilk ranch dressing mix
1 cup mayonnaise
½ cup sour cream
⅓ to ½ cup buttermilk
½ bunch cilantro (with stems)
2 cloves garlic, minced
Lime juice from 1 lime
Saute onion and garlic in butter. Place roast in crock pot and cover with onion. Cook about 3 hours on high (or low equivalent).
Drain liquid and save in fridge; shred pork. Add the soy sauce, lemon juice, brown sugar, salt and pepper and cook an additional 2 hours on high (or low equivalent).
Skim off fat from reserved liquid and add liquid to pork (to taste).
Serve on tortillas with Zataran's Black Beans & Rice, cheese, pico de gallo...whatever you like! I used lettuce, shredded cheese and fresh tomatoes from our garden. Top it with creamy cilantro dressing.
Add ingredients to a blender and puree until smooth. Chill 1 hour (if you can wait that long).
Recipe by
Half-Scratched
at https://www.halfscratched.com/slow-cooker-anyday-cafe-rio-sweet-pork-creamy-cilantro-dressing/