Easy Homemade Chicken (or Turkey) Noodle Soup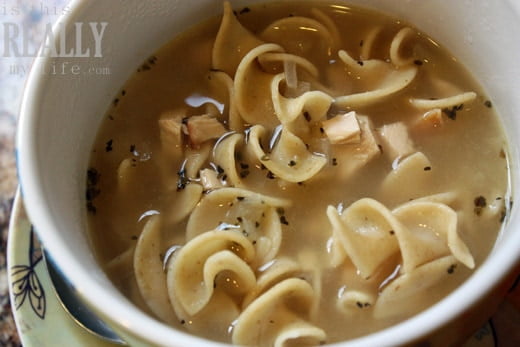 Author:
Emily ~ isthisREALLYmylife.com
1 T butter
1 cup chopped onion
1 cup chopped celery
4 (14.5-oz) cans chicken broth
1 (14.5-oz) can vegetable broth
2 to 3 cooked chicken breasts, chopped (or 2 to 3 cups diced/chopped cooked turkey breast)
2 to 3 cups egg noodles
2 cups sliced carrots
½ tsp dried basil
½ tsp dried oregano
Salt and pepper to taste
In a large pot over medium heat, melt butter. Cook onion and celery in butter until just tender, about 5 minutes.
Pour in chicken and vegetable broths and stir in chicken (or turkey), noodles, carrots, basil, oregano, salt and pepper. Bring to a boil, then reduce heat and simmer 20 minutes before serving.
Recipe by
Half-Scratched
at https://www.halfscratched.com/super-easy-homemade-chicken-noodle-soup/