Coconut Almond Chex Mix with Grahams & Chocolate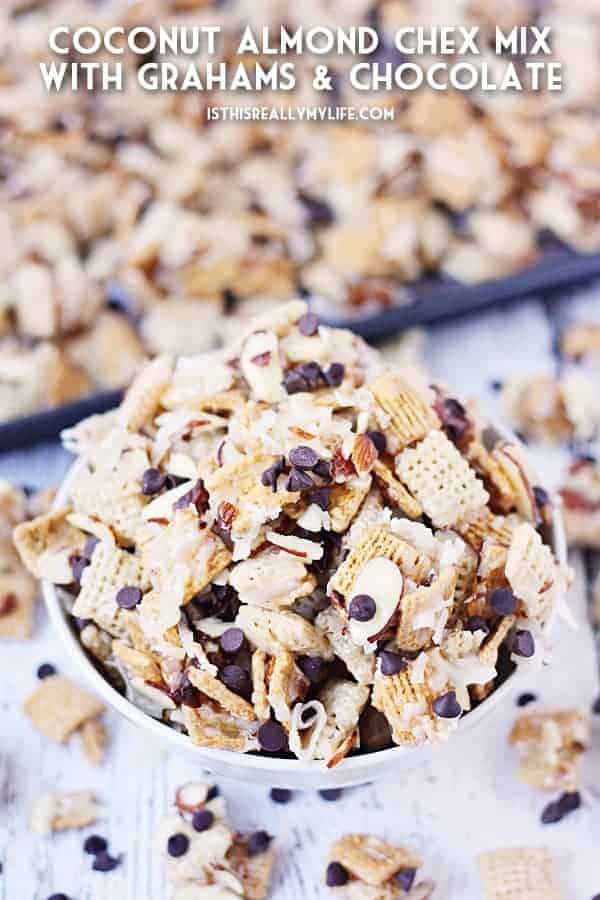 Author:
Emily ~ isthisREALLYmylife.com
6 cups Rice Chex cereal
6 cups Golden Grahams cereal
2 cups sweetened shredded coconut
2 cups slice almonds
½ cup mini semisweet chocolate chips
1 cup light corn syrup
1 cup sugar
¾ cup salted butter
Line 2 baking sheets with parchment paper; set aside.
Combine Chex cereal, Golden Grahams cereal, coconut and almonds in a large bowl; set aside.
Combine Corn syrup, sugar and butter in a medium saucepan. Bring to a boil over medium-high heat; boil 2 minutes, stirring frequently. Remove from heat and let cool 2 minutes.
Pour syrup mixture over cereal mixture; toss until cereal mixture is evenly coated.
Spread mix on cookie sheets. Allow to cool 2 minutes and then sprinkle with chocolate chips. DON'T TOUCH mixture until completely cool as the chocolate chips get a little soft because of the slightly warm mix.
Once completely cool, store in an airtight container for up to 1 week.
NOTE: Not all the chocolate chips will stick to the mix but enough of them will to make it yummy! If you want more sticking power, you could try sprinkling them after only 1 minute of cool time on the cookie sheets.
Recipe by
Half-Scratched
at https://www.halfscratched.com/coconut-almond-chex-mix/