Dark Chocolate-Dipped Frozen Banana Bites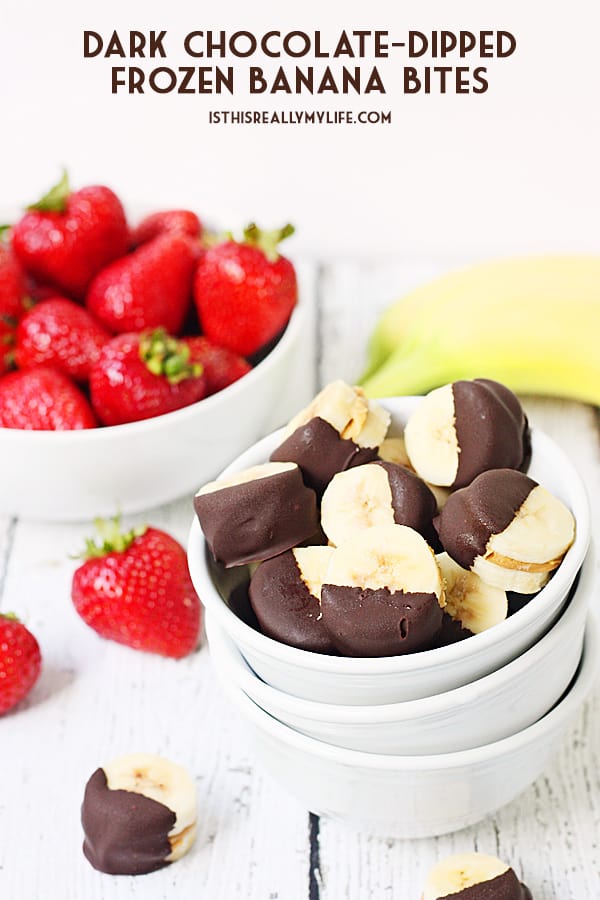 Author:
Emily ~ isthisREALLYmylife.com
4 bananas
1 cup natural peanut butter or your favorite nut butter
1 (10-oz) package dark chocolate chunks
1 T coconut oil or vegetable shortening
Line a small baking sheet with parchment paper; set aside.
Slice bananas into ¼- to ½-inch rounds. Spread a small dollop of peanut butter on half of the small banana slices and top with second slice. Place on baking sheet and freeze for 15 to 20 minutes.
Microwave chocolate chunks and shortening on high 30 seconds; stir well. Microwave in 15-second increments, stirring after each, until chocolate is completely melted.
Remove banana bites from freezer and dip each one into melted chocolate. Return to parchment-lined baking sheet. Let stand until chocolate is firm. If not serving immediately, return bananas to freezer.
Recipe by
Half-Scratched
at https://www.halfscratched.com/dark-chocolate-dipped-frozen-banana-bites/