Krispie Treat Fireworks Pops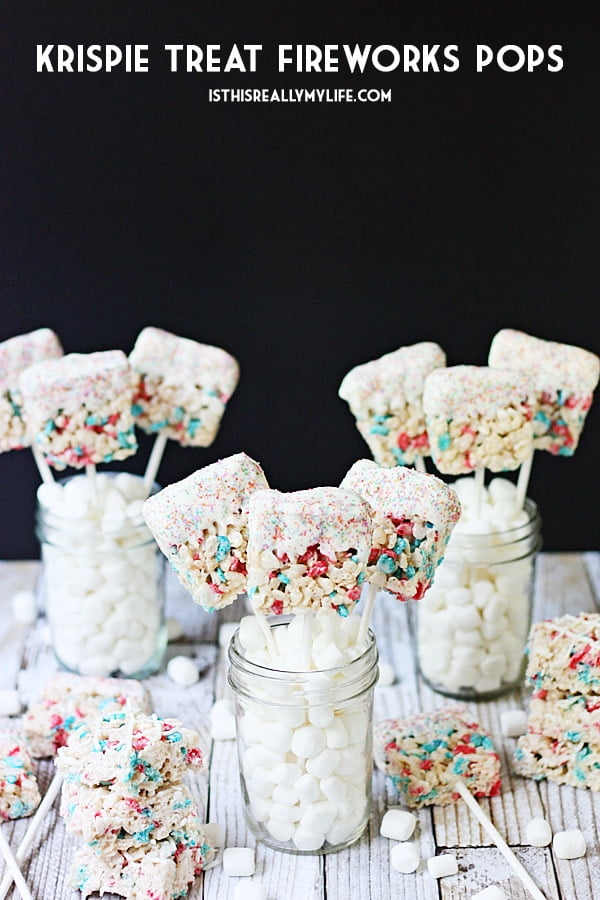 Author:
Emily ~ isthisREALLYmylife.com
3 T salted butter
1 (10-oz) package mini marshmallows
6 cups Kellogg's limited edition Rice Krispies with red & blue krispies
1 (24-oz) package vanilla almond bark
Multicolored sugar sprinkles
Lightly spray a 9x13-inch baking dish with non-stick cooking spray.
Melt butter in a large saucepan over low heat.
Add marshmallows and stir frequently until completely melted. Remove from heat and fold in Kellogg's Rice Krispies.
Transfer contents to baking dish. Use waxed paper (or your fingers) lightly greased with cooking spray or butter to gently press mixture in pan until evenly distributed. Cut into 2-inch squares once cooled and set.
Melt almond bark according to package directions. Dip one end of the lollipop stick in melted chocolate and gently press into one end of the krispie treats. Lay on waxed or parchment paper to set.
Dip the opposite end of the krispie treat in melted almond bark and cover with sprinkles. Lay on waxed or parchment paper until ready to serve. Store leftovers in an airtight container.
Recipe by
Half-Scratched
at https://www.halfscratched.com/krispie-treat-fireworks-pops/