Chocolate Chunk Hazelnut Blondies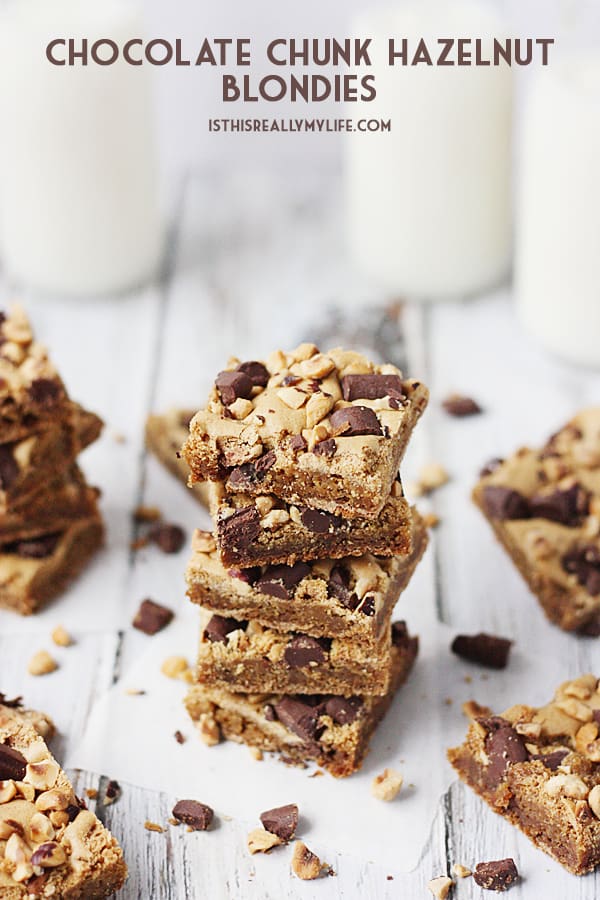 Author:
Emily ~ isthisREALLYmylife.com
2 cups packed brown sugar
⅔ cup unsalted butter, cubed
2 eggs
2 tsp vanilla extract
2 cups flour
1 tsp baking soda
1 tsp baking powder
½ tsp salt
½ cup chopped hazelnuts
¾ cup dark chocolate chunks
Preheat oven to 350 degrees F. Spray a 9x13-inch baking dish with cooking spray; set aside.
Combine brown sugar and butter in a medium saucepan. Cook over medium heat, stirring constantly, until butter and sugar are melted and mixture is smooth. Note: sugar won't totally dissolve.
Remove from heat and transfer to large mixing bowl; stir to cool.
Stir in eggs, one at a time, then vanilla. Stir in flour, baking soda, baking powder and salt until thoroughly combined (batter will be thick).
Spread batter in pan, smoothing out the top. Sprinkle hazelnuts and chocolate chunks evenly over the top.
Bake 25 to 30 minutes or until toothpick inserted in the center comes out clean. Cut into squares while still warm. Store leftovers in an airtight container.
Recipe by
Half-Scratched
at https://www.halfscratched.com/chocolate-chunk-hazelnut-blondies/