Sour Cream Carrot Bundt Cake with Cream Cheese Frosting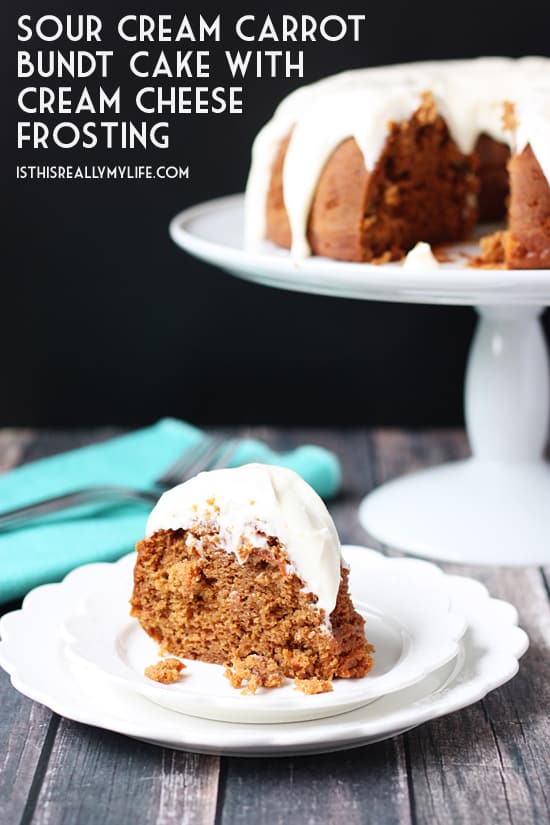 Author:
Emily ~ isthisREALLYmylife.com
¾ cup sour cream
½ cup canola oil
½ cup water
4 eggs
1 (20-oz) box Duncan Hines Decadent Carrot Cake Premium Cake Mix
1 small box instant cheesecake pudding mix
½ cup salted butter, softened
4 oz. low-fat cream cheese, softened
1 tsp vanilla
2 cups powdered sugar
2 T milk (or enough to desired consistency)
Preheat oven to 350 degrees. Grease and flour bundt pan.
Empty contents of carrots and raisin pouch into a small bowl. Add 1¼ cups of hot tap water; set aside for 5 minutes.
Combine sour cream, oil, water, and eggs in a large mixing bowl. Beat until thoroughly combined.
Add cake mix and pudding mix and beat on medium speed for 2 minutes.
Drain carrots and raisins and add to cake mix. Beat by hand until well blended.
Bake for 45 to 55 minutes or until top springs back when lightly touched and toothpick inserted in the center comes out clean.
Cool in pan about 15 minutes before inverting onto serving platter. Cool completely before frosting.
Beat butter, cream cheese and vanilla in medium bowl until creamy. Add powdered sugar and beat until smooth. Add milk until desired consistency. (I like it a bit thinner so it runs down the sides of the cake.)
Serve within 24 hours for best flavor. Store, covered, at room temperature for up to 48 hours.
To make this chocolate cake even better, make it a day ahead. Allow it to cool no more than 15 minutes in the pan before inverting it onto a plate and covering tightly with plastic wrap. Refrigerate overnight. Remove from refrigerator at least a half hour before frosting.
Recipe by
Half-Scratched
at https://www.halfscratched.com/sour-cream-carrot-bundt-cake/