Copycat Reese's Peanut Butter Eggs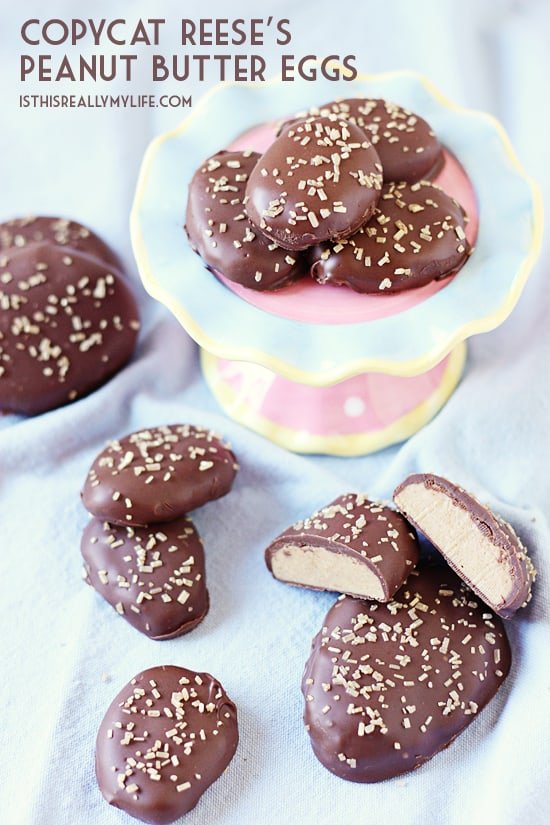 Author:
Emily ~ isthisREALLYmylife.com
1 cup all-natural creamy peanut butter
¼ cup unsalted butter
1 cup light brown sugar
¼ tsp vanilla extract
1¼ to 1½ cups powdered sugar
2 cups semi-sweet chocolate chips
2 T shortening
Sprinkles (optional; I used gold-colored sugar sprinkles)
Line a baking sheet with wax or parchment paper and set aside.
In a medium saucepan combine the peanut butter, butter, and brown sugar. Heat over medium-high heat, stirring constantly until completely melted and mixture just comes to a boil. Remove from heat.
Add the powdered sugar ¼ cup at a time, whisking until completely dissolved after each addition. If mixture seems way too runny, add another ¼ cup of powdered sugar. NOTE: You'll want to switch to a spatula or spoon after about ¾ cups or your arm will fall off from whisking.
Set pan aside and let cool to room temperature.
Using a medium cookie dough scoop or a heaping tablespoon, scoop peanut butter mixture and shape into eggs. For smaller eggs, use a small cookie dough scoop or heaping teaspoon. NOTE: Depending on the thickness of your peanut butter mixture, you may be able to roll them into a ball in your hand and then finish shaping them on the parchment paper. I scooped the mixture directly onto the paper and formed the egg shapes with my fingers because my mixture was a bit gooey.
Refrigerate (or freeze) for at least 30 minutes to allow the peanut butter eggs to set.
Once set, melt the chocolate chips and shortening together in the microwave on half power in 30-second increments, stirring after each until completely melted.
Using a fork, set a single peanut butter egg in the chocolate and flip it over to completely coat all sides. Remove it from the bowl and gently shake to remove any excess chocolate. Place on the parchment paper and sprinkle with decorations. Repeat with remaining peanut butter eggs.
Return the chocolate-dipped peanut butter eggs to the refrigerator for at least 30 minutes to set chocolate. Store in refrigerator in an airtight container until ready to serve.
Recipe by
Half-Scratched
at https://www.halfscratched.com/copycat-reeses-peanut-butter-eggs/