Skinny Lemon Poppy Seed Muffins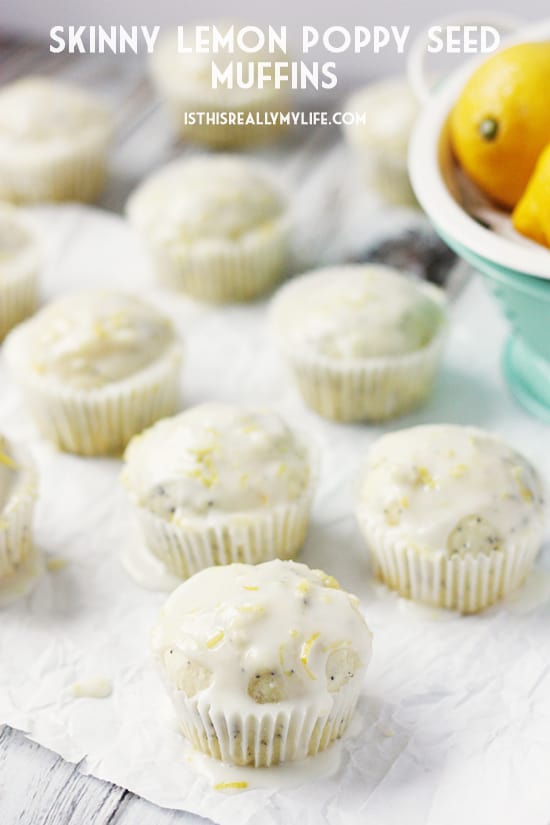 Author:
Emily ~ isthisREALLYmylife.com
1⅔ cup flour
⅔ cup Splenda
2 tsp baking powder
½ tsp salt
⅓ cup coconut oil, melted
⅔ cup lemon-flavored Greek yogurt, room temperature
⅓ cup skim milk, room temperature
1 egg, room temperature
1 T poppy seeds
2 T fresh lemon juice
1 cup powdered sugar
1 T lemon zest
Preheat oven to 350 degrees. Line a muffin pan with baking cups.
Combine flour, sugar, baking powder and salt in a small bowl; set aside.
Whisk coconut oil, Greek yogurt, milk, egg, lemon zest and poppy seeds together in a medium bowl.
Stir in flour mixture until just moistened. Batter will be on the thicker side.
Use a large scoop (about 3 T) to divide batter evenly among muffin cups.
Bake for 15 to 20 minutes or until a toothpick inserted in center comes out clean. Cool in pan for 2 minutes before removing.
Combine lemon juice, powdered sugar and lemon zest in a small bowl; whisk until smooth.
Drizzle over muffins a few minutes after removing from pan.
Recipe by
Half-Scratched
at https://www.halfscratched.com/skinny-lemon-poppy-seed-muffins/