Sauteed Brussels Sprouts with Bacon, Craisins & Candied Pecans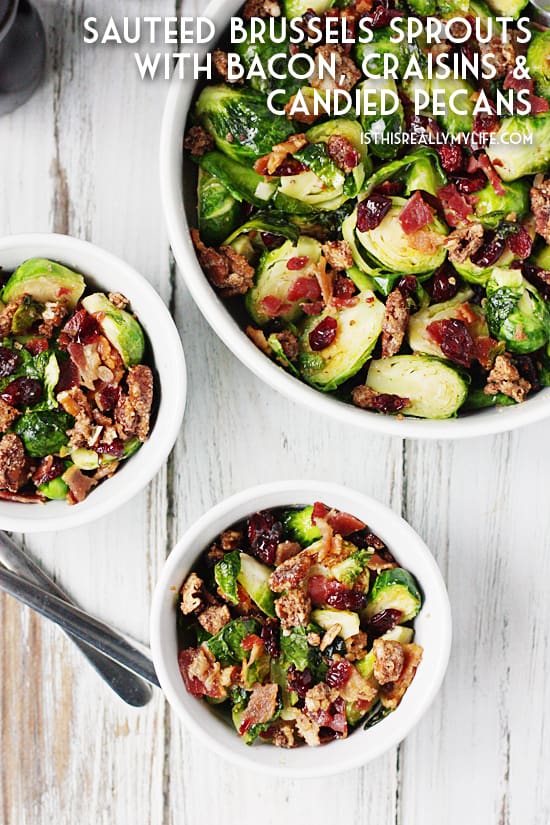 Author:
Emily ~ isthisREALLYmylife.com
4 slices bacon, cooked crisp and crumbled
2 cups trimmed & halved brussels sprouts
1 T unsalted butter
Olive oil
½ T garlic salt with parsley
⅓ cup craisins
⅓ cup candied pecans
3 cups roughly chopped pecans
1 egg white
2 tsp water
½ cup granulated sugar
½ cup brown sugar
1 T cinnamon
1 pinch nutmeg
1 pinch salt
Heat butter and drizzle of olive oil in a large saute pan over medium heat.
Add brussels sprouts and stir to coat in oil mixture. Saute 5 to 10 minutes or until tender and golden on the cut side.
Stir in garlic salt with parsley and cook another 1 to 2 minutes.
Remove from heat and toss with craisins, bacon and candied pecans.
Preheat oven to 300 degrees. Line a rimmed baking sheet with parchment paper.
Place pecans in a large bowl; set aside.
Whisk together egg white and water in a small bowl until foamy. Stir into pecans. Add sugars, cinnamon, nutmeg and salt. Toss to coat evenly.
Spread coated pecans evenly on baking sheet. Bake 25 to 27 minutes. Remove from oven and cool completely before storing in an airtight container.
1. To cut down on prep time, cook and crumble the bacon and make the candied pecans a day or two ahead of time.
2. If you don't want to cook your bacon in a skillet (and get grease all over the place), bake it in the oven! Preheat oven to 400 degrees. Line two rimmed baking sheets with foil. Separate bacon and place about a half inch apart on baking sheets. Bake for 10 minutes, remove from oven and turn pieces over. Bake another 10 minutes or until bacon reaches desired doneness. (We like half chewy and half crispy.)
Recipe by
Half-Scratched
at https://www.halfscratched.com/sauteed-brussels-sprouts-bacon-craisins-candied-pecans/