Stuffed Crust Chicken Bacon Spinach Pizza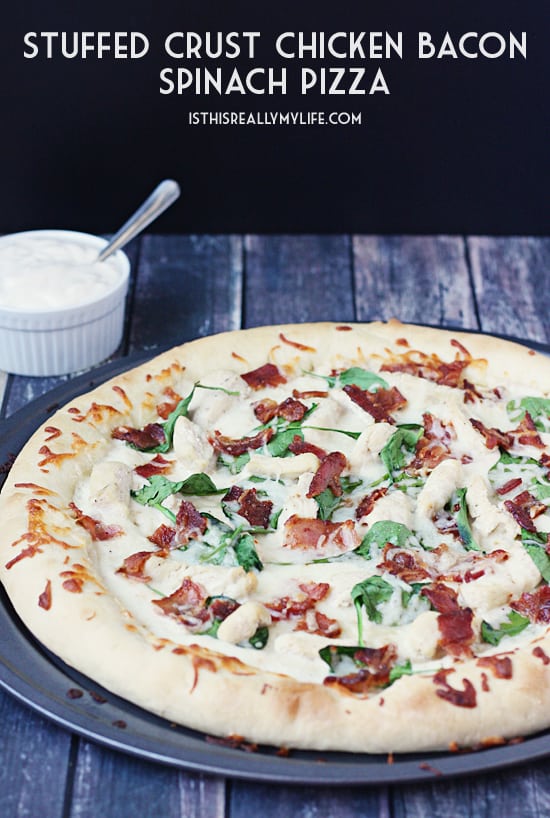 Author:
Emily ~ isthisREALLYmylife.com
2½ tsp active dry yeast
1 cup warm water
1 tsp sugar
1 tsp salt
2 T olive oil
2 to 2½ cups flour
1 cup alfredo sauce
2 cups shredded mozzarella cheese
2 cups fresh spinach
3 chicken breasts, cooked and diced
6 to 8 pieces bacon, cooked and diced
1 T fresh crushed garlic
5 sticks of mozzarella string cheese
Preheat oven to 425 degrees.
Dissolve yeast in water in large bowl of stand mixer. Let sit until you see small bubbles (about 2 minutes).
Stir in sugar, salt, olive oil and flour using dough hook. Add enough flour until dough pulls away from the sides and is slightly sticky.
Knead about 5 minutes until dough is smooth; let rest 5 minutes.
Pat out dough onto a pizza stone or lightly greased pizza pan making it slightly larger than the pan. Cut mozzarella sticks into quarters and place them around the crust, leaving about a ½-inch edge of dough. Take the edge and gently roll it around the mozzarella sticks, tucking the end underneath. The crust should no longer overlap the edges of the pan.
Poke a few holes in the crust to prevent large air bubbles and bake for 7 to 10 minutes depending on thickness. Remove from oven.
Spread 1 cup sauce on the crust. Top with shredded mozzarella cheese, spinach, chicken, bacon and garlic. Sprinkle a little more cheese on top.
Bake for another 15 to 20 minutes until cheese is melted and slightly golden. Allow to cool 1 to 2 minutes before slicing and serving.
Recipe by
Half-Scratched
at https://www.halfscratched.com/stuffed-crust-chicken-bacon-spinach-pizza/