Five-Bean Soup Mix in a Jar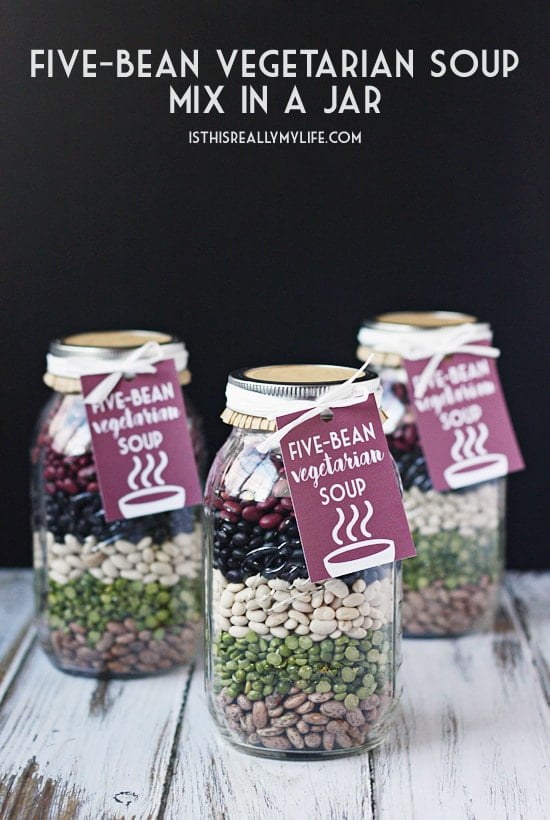 Author:
Emily ~ isthisREALLYmylife.com
1 (16-oz) package pinto beans
1 (16-oz) package split green peas
1 (16-oz) package great northern beans
1 (16-oz) package black beans
1 (16-oz) package red beans or red lentils
1 T black pepper
1 T paprika
1 T dry mustard
2 T dried minced onion
2 T sea salt
2 T garlic powder
2 T dried oregano
1 tsp dried rosemary
1 tsp dried basil
6 bay leaves
3 vegetable bouillon cubes
3 quart-size mason jars with lids
Printable gift tag with directions (see original post: https://www.halfscratched.com/2016/11/five-bean-soup-mix-in-a-jar/)
Layer ¾ cup pinto beans in jars; shake gently to level beans. Repeat with ¾ cup of peas, northern beans, black beans and red beans. Set jars aside.
Combine pepper, paprika, dry mustard, minced onion, salt, garlic powder, oregano, rosemary and basil in a small bowl.
Place 3 T of spice mix in a snack-size ziploc bag. Add 2 bay leaves and 1 bouillon cube. Gently shake contents to one side of bag and close. Fold bag around spices and place in top of each jar.
Place lids on jars, sealing tightly. Tie with ribbon and attach printable gift tag with instructions.
Recipe by
Half-Scratched
at https://www.halfscratched.com/five-bean-soup-mix-in-a-jar/