S'mores Rice Krispie Treats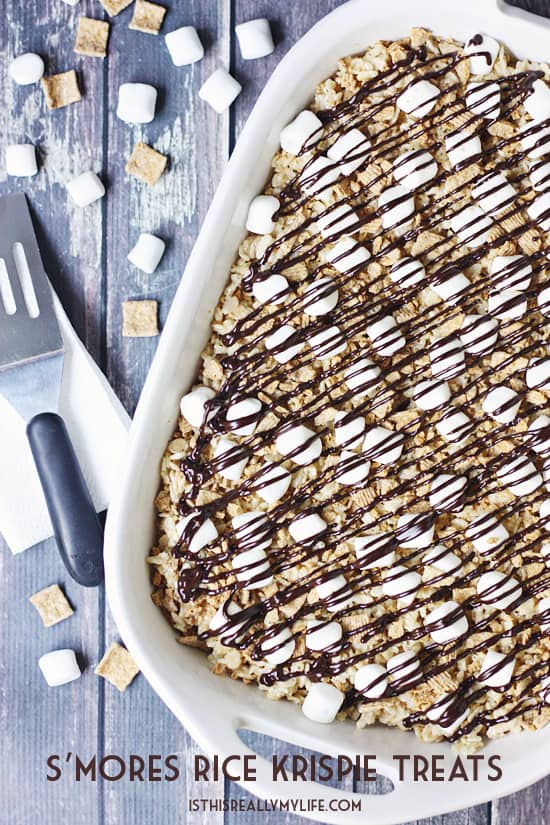 Author:
Emily ~ isthisREALLYmylife.com
¼ cup butter
1 (10-oz) bag mini marshmallows plus 1½ cups mini marshmallows
1 tsp vanilla
6½ cups rice krispies
½ to ¾ cup crushed Golden Grahams cereal
¾ cup semisweet chocolate chips
3 T butter
1 T light corn syrup
¼ tsp vanilla
Spray a 9x13-inch baking dish with non-stick spray.
Place butter and marshmallows in a large saucepan over low heat. Stir frequently until completely melted.
Remove from heat and stir in vanilla. Fold in rice krispies.
Transfer contents to baking dish. Use waxed paper (or your fingers) lightly greased with cooking spray or butter to gently press mixture in pan until evenly distributed.
Top with marshmallows, gently pressing so they stick to treats. Sprinkle with crushed Golden Grahams and drizzle with chocolate. Store in an airtight container (best if eaten same day).
Combine ingredients in a microwaveable bowl. Microwave on high for 30 to 45 seconds, stirring every 15 seconds, until completely melted. Do not overcook!
Use a spoon or squeeze bottle to drizzle chocolate over treats.
Recipe by
Half-Scratched
at https://www.halfscratched.com/smores-rice-krispie-treats/