Healthy Orange Oatmeal Chocolate Chip Cookies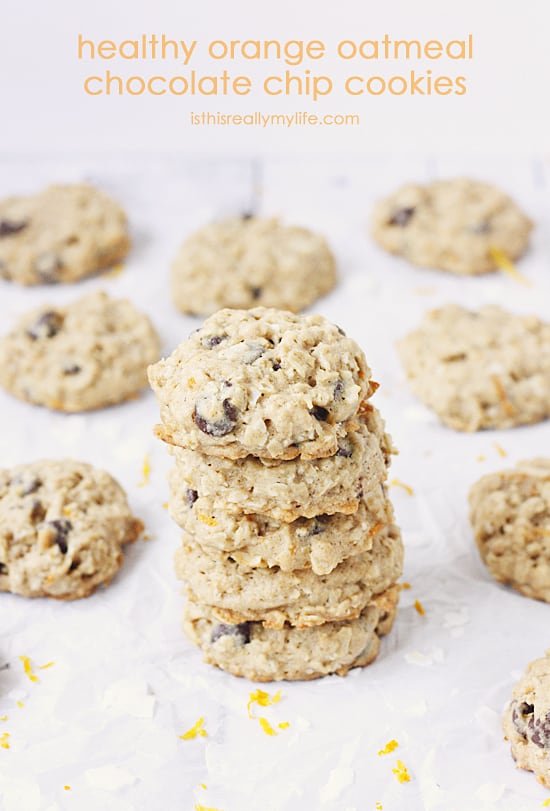 Author:
Emily ~ isthisREALLYmylife.com
1 cup unsalted butter, softened
2 eggs
½ cup mashed ripe banana (about 1 banana)
2 tsp vanilla extract
1 cup brown sugar
1 T orange zest
1 cup whole wheat flour
1 cup all-purpose flour
½ tsp salt
2 tsp baking powder
3 cups old-fashioned rolled oats
½ cup unsweetened flaked coconut
1 cup semisweet chocolate chips (or milk chocolate chips or raisins)
1 cup chopped walnuts (optional)
Preheat oven to 350 degrees.
Cream butter and egg together in a large mixing bowl until smooth. Beat in banana, vanilla and brown sugar. Fold in orange zest.
Combine flour, salt, baking powder, oats, coconut, walnuts (optional) and chocolate chips in a large bowl. Stir until blended well.
Add flour mixture to creamed mixture and beat until thoroughly combined. Don't over mix!
Drop rounded tablespoonfuls onto lightly greased baking sheet. Gently press dough to flatten. Bake 15 to 18 minutes or until edges turn golden brown and centers are set. Cool 2 to 3 minutes before removing to wire rack to cool completely.
Recipe by
Half-Scratched
at https://www.halfscratched.com/healthy-orange-oatmeal-chocolate-chip-cookies/