Buttermilk Glazed Carrot Cake with Cream Cheese Frosting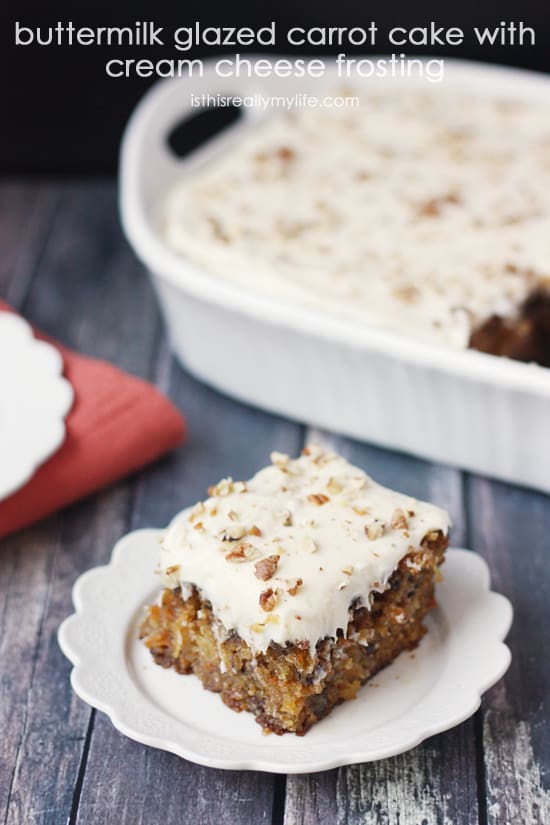 Author:
Emily ~ isthisREALLYmylife.com
2 cups flour
2 cups sugar
1 tsp baking powder
1½ tsp baking soda
1 tsp salt
2 tsp cinnamon
1 cup oil
4 eggs
1 (15.25-oz) can crushed pineapple
1½ tsp vanilla
2 cups shredded carrots
1 cup chopped pecans or walnuts
½ cup salted butter
1 cup sugar
1½ tsp vanilla
½ tsp baking soda
1 T corn syrup
½ cup buttermilk
1 cup salted butter, softened
1 (8-oz) package low-fat cream cheese, softened
2 tsp vanilla
4 cups powdered sugar
2 T milk (or enough to desired consistency)
Preheat oven to 350 degrees. Sift together first six ingredients in a large bowl. Set aside.
Combine oil and eggs in a large mixing bowl; beat until combined. Add ½ flour mixture and mix.
Drain some of the juice from the pineapple; add to batter. Mix in remaining flour mixture. Add vanilla, carrots and nuts. Stir until well combined.
Pour into a 9x13-inch baking dish and bake 35 to 45 minutes or until center is set. Cake will be very dark but should not burn. Remove from oven and prepare glaze.
Place ingredients in a medium saucepan. Cook, stirring constantly until sugar is dissolved and mixture is lightly simmering. It will foam like caramel popcorn coating.
Poke holes all over cake with a fork. Pour glaze over cake spreading with a spatula so entire cake is covered. Let cake cool completely before frosting.
Beat butter, cream cheese and vanilla in medium bowl until creamy. Add powdered sugar and beat until smooth. Add milk until desired consistency. Frost cake when cooled.
Serve cake within 24 hours for best flavor. Store, covered, at room temperature for up to 48 hours.
Recipe by
Half-Scratched
at https://www.halfscratched.com/buttermilk-glazed-carrot-cake-with-cream-cheese-frosting/