Weeknight Fish Fillet Sandwiches with Homemade Tartar Sauce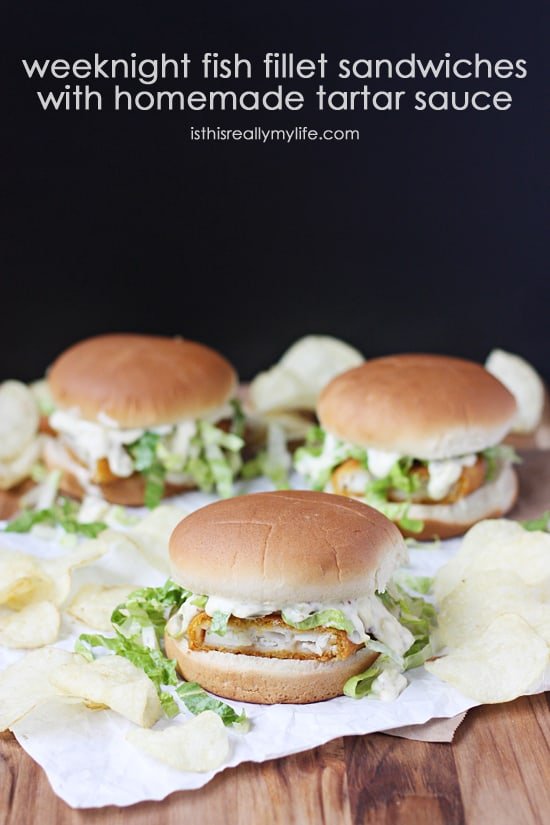 Author:
Emily ~ isthisREALLYmylife.com
2 pkg Gorton's Pub-Style Beer Battered Cod
6 hamburger buns
Shredded lettuce
Homemade tartar sauce (see below)
1 cup low-fat mayo
¼ cup dill pickles, finely diced
2 T champagne vinegar (or white wine vinegar)
1 T capers (or more to taste), minced
2 tsp stone ground mustard
Pinch kosher salt
Pinch freshly ground black pepper
Bake cod fillets according to package directions. While baking, prepare tartar sauce (see below).
Remove fillets from oven. Gently cut fillets in half so you have a square and a triangle. One solid square fillet equals one sandwich. The two leftover triangles placed together to make a square equals another sandwich.
Place one square fillet piece (or two triangle fillet pieces) on bottom bun. Top with shredded lettuce and a healthy dollop of tartar sauce. Top with remaining half of bun. Serve immediately with your favorite chips and/or french fries.
Place all ingredients in a medium bowl and whisk until thoroughly combined. Refrigerate until read to serve. Store leftovers in refrigerator.
Recipe by
Half-Scratched
at https://www.halfscratched.com/fish-fillet-sandwiches-with-homemade-tartar-sauce/