Easy Carrot Cake Sandwich Cookies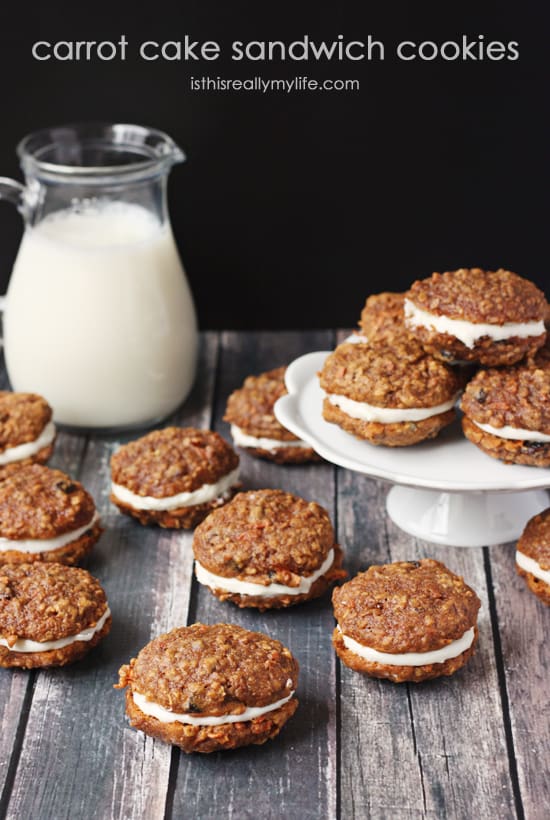 Author:
Emily ~ isthisREALLYmylife.com
1 package Duncan Hines® Decadent Carrot Cake Mix
½ cup unsalted butter, softened
2 eggs
1 cup quick-cooking oatmeal
½ cup pecans
¼ cup raisins (optional but not optional if you love raisins)
4 oz. low-fat cream cheese, softened
½ cup salted butter, softened
1 tsp vanilla
2 cups powdered sugar
1 to 2 T milk
Preheat oven to 350 degrees. Line a baking sheet with parchment paper or silicone baking mat.
Open carrot and raisins pouch and add to 1¼ cups HOT tap water; let stand about 5 minutes.
Beat butter until light and fluffy. Add cake mix, eggs, oats, nuts and soaked carrot and raisin mixture (including any unabsorbed water). Beat until just combined.
Spoon heaping tablespoons of batter onto cookie sheets. Bake for 12 minutes or until set.
Allow to cool at least 2 minutes on cookie sheet before transferring to a wire rack. Cool completely before frosting.
Beat butter, cream cheese and vanilla until smooth. Add powdered sugar and beat until thoroughly combined. Add milk until desired consistency. You want it spreadable but not too thin!
Spread desired amount of frosting onto bottom of one cookie; top with second cookie. Store in an airtight container.
Recipe by
Half-Scratched
at https://www.halfscratched.com/carrot-cake-sandwich-cookies/