The Best Asian Ramen Chicken Salad EVER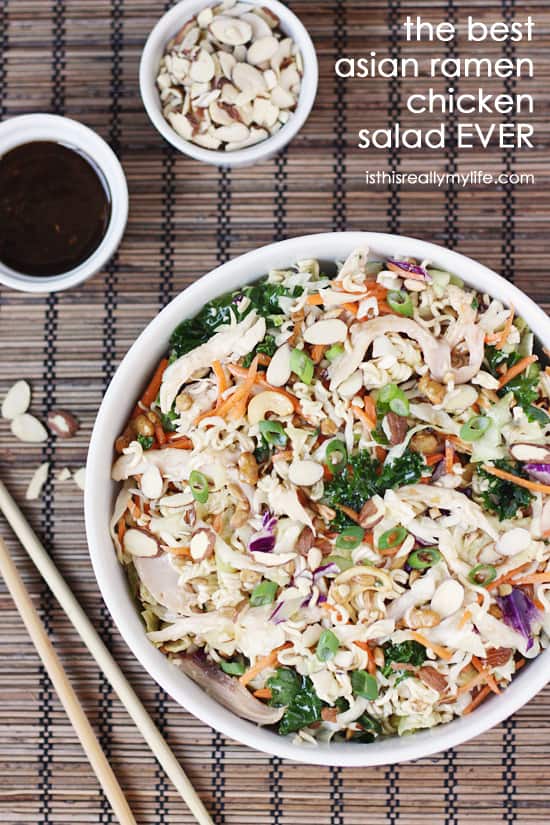 Author:
Emily ~ isthisREALLYmylife.com
1 package Eat Smart Asian Sesame Vegetable Salad Kit
1 (8-oz) package coleslaw mix
½ to 1 cup sunflower seeds (de-shelled)
1 cup sliced almonds
2 (3-oz) packages ramen noodles, chicken flavor
2 to 3 green onions, sliced
2 cups shredded rotisserie chicken
¾ cup canola oil
⅓ cup rice vinegar
½ cup sugar
Open Eat Smart Asian Sesame Vegetable Salad Kit and package with the cashews, sesame sticks and sesame dressing. Refrigerate dressing packet.
Open ramen packages and set aside flavor packets. Place noodles in a Ziploc bag and gently crush with a rolling pin.
Place salad kit, packages of cashews and sesame sticks, coleslaw mix, sunflower seeds, almonds, ramen noodles, green onions and rotisserie chicken in a large bowl.
Combine canola oil, vinegar, sugar and 1 ramen flavor packet in a medium bowl. Whisk until sugar is nearly dissolved.
Pour oil mixture over coleslaw mix and gently toss together until everything is coated. Cover with plastic wrap and chill for at least two hours.
Drizzle ½ to ¾ packet of sesame dressing over salad and toss before serving OR drizzle sesame dressing over individual servings.
Recipe by
Half-Scratched
at https://www.halfscratched.com/best-asian-ramen-chicken-salad/