Low(er) Calorie BYU Mint Brownies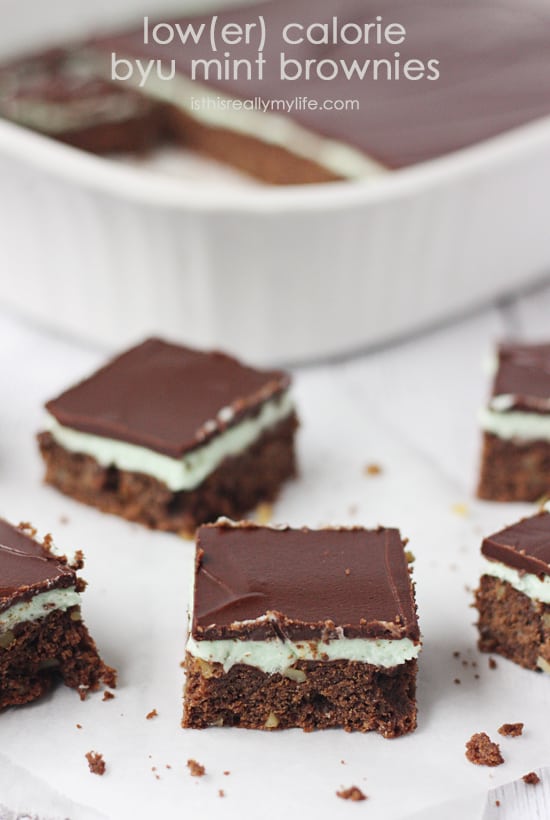 Author:
Emily ~ isthisREALLYmylife.com
1 cup unsalted butter
½ cup baking cocoa
2 T honey
4 eggs
2 cups SPLENDA No Calorie Sweetener, Granulated (or regular granulated sugar)
1¾ cups flour
½ T baking powder
½ tsp salt
1 cup chopped walnuts (optional)
5 T unsalted butter, softened
Dash of salt
1 T light corn syrup
2⅓ cups powdered sugar
3 to 5 T milk
½ tsp mint extract
1 to 2 drops green food coloring
6 oz semisweet chocolate chips (about 1 cup)
6 T salted butter, cut into 6 pieces
Preheat oven to 350 degrees. Lightly grease a 9x13-inch baking pan.
Melt butter over medium heat; whisk in cocoa. Allow to cool.
Add honey, eggs, sugar, flour, baking powder, and salt. Mix until thoroughly combined. Fold in nuts.
Pour batter into pan and bake 20 to 25 minutes or until toothpick inserted in center comes out clean. Cool.
Beat butter, salt, corn syrup, powdered sugar and 3 T milk. Beat until smooth and fluffy. Beat in mint extract and food coloring. Add more milk gradually until the consistency is a little thinner than cake frosting.
Spread mint icing over brownies. Place brownies in freezer for a short time to stiffen icing. Remove from the freezer while preparing ganache.
Combine chocolate chips and butter in a medium microwave-safe bowl. Microwave on high for 30 seconds; stir. Continue to microwave in 15-second intervals, stirring after each, until chips are completely melted.
Spread ganache gently over mint frosting.
Recipe by
Half-Scratched
at https://www.halfscratched.com/byu-mint-brownies/