The Most Adorable Owl Cookies Ever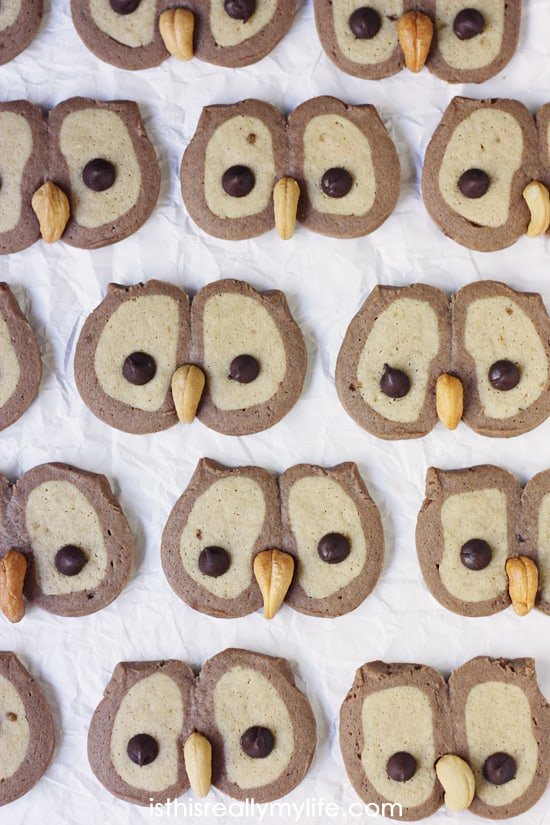 Author:
Emily ~ isthisREALLYmylife.com
¾ cup unsalted butter, softened
1 cup brown sugar
1 egg
1 tsp vanilla
2½ cups flour
2 tsp baking powder
½ tsp salt
1 T unsweetened cocoa powder
Semisweet chocolate chips
Whole cashews
Cream butter and sugar until fluffy, then add egg and vanilla. Mix well.
Add flour, baking powder and salt. Beat until thoroughly combined.
Make a roll out of chocolate dough a length just short the length of a cookie sheet on a non-stick surface like a silicone baking mat (or flour counter lightly). Use rolling pin to flatten roll so dough ends up approximately 4-5 inches wide and the length of a cookie sheet.
Make roll out of light dough the same length and center on top of chocolate dough. Use a spatula or the silicone mat to wrap chocolate dough around light.
Wrap in plastic wrap seam side down and smooth. Place on cookie sheet or similar flat surface and and chill 2-3 hours or up to a week.
Preheat oven to 350 degrees. Cut dough into ¼-inch slices and place two slices side by side with flat sides together on a cookie sheet lined with parchment paper. Press gently to seal seam.
Pinch upper corners to resemble ears. Gently press chocolate chips in each circle for eyes and a cashew in the center for the beak.
Bake for 10 to 15 minutes or until set. Let cool 2 minutes before removing to wire rack. Store in an airtight container.
If you have nut allergies in the group, you can substitute candy corn for the cashews.
Recipe by
Half-Scratched
at https://www.halfscratched.com/owl-cookies/