Peanut Butter Cup Cream Puffs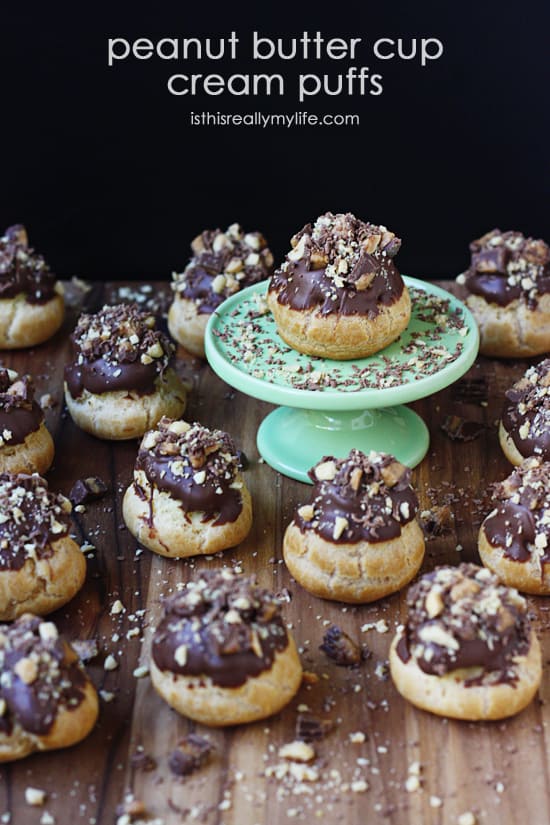 Author:
Emily ~ isthisREALLYmylife.com
¾ cup all-purpose flour
6 T unsalted butter, cut into 6 pieces
1 tsp sugar
¼ tsp salt
3 large eggs, room temperature
¾ cup heavy cream
½ cup sugar
4 oz cream cheese, softened
½ cup creamy peanut butter
1 tsp vanilla
8 oz semisweet chocolate chips (or chopped milk chocolate)
1 T shortening
Finely chopped peanuts
Chopped peanut butter cups
Chocolate curls
Preheat oven to 425. Lightly grease baking sheets or line with parchment paper. Measure flour and set aside.
Bring butter, sugar, salt and ¾ cup water to a boil in a medium saucepan over medium-high heat, stirring occasionally. Immediately remove from heat, and quickly stir in flour mixture all at once.
Return to heat and stir with a wooden spoon for 1 to 2 minutes or until dough is smooth and forms a ball. Transfer dough to the bowl of an electric mixer, and let cool 5 minutes.
Add 3 eggs, one at a time, beating until mixture is smooth and glossy. Spoon dough into a pastry bag fitted with a ⅝-inch plain tip. Pipe dough onto prepared pans into 1½-inch rounds (1½ inches high). Smooth out peaks and round tops with a moistened finger.
Bake for 5 minutes; reduce oven temperature to 375 and bake 30 minutes or until puffy and golden brown. Turn oven off; let shells stand in closed oven 10 minutes. Remove from baking sheets to wire racks and cool completely.
Place cream in a large bowl and beat at medium-high speed with an electric mixer until stiff peaks form. Set aside.
Combine sugar, cream cheese, peanut butter and vanilla in a separate bowl. Beat until smooth.
Stir ½ cup whipped cream into sugar mixture. Fold in remaining whipped cream.
Spoon whipped cream mixture into a pastry bag fitted with a small round tip. Pierce the top of each cream puff with the tip of a knife to create a small hole. Insert the pastry tip and fill with whipped cream. Chill 30 minutes.
Combine chocolate chips and shortening in a small microwaveable bowl. Microwave on high 30 seconds; stir. If chocolate chips aren't completely melted, microwave an additional 10 seconds.
Dip tops of each cream puff in melted chocolate. Sprinkle with peanuts, chopped peanut butter cups and chocolate curls. Chill until ready to serve.
For a step-by-step guide (photos and video) on how to make cream puffs, visit http://www.barbarabakes.com/how-to-make-cream-puffs-video-and-easy-step-by-step-photos-and-instructions/.
Recipe by
Half-Scratched
at https://www.halfscratched.com/peanut-butter-cup-cream-puffs/