Energy (Protein) Bites Two Ways: Cherry & Chocolate Chip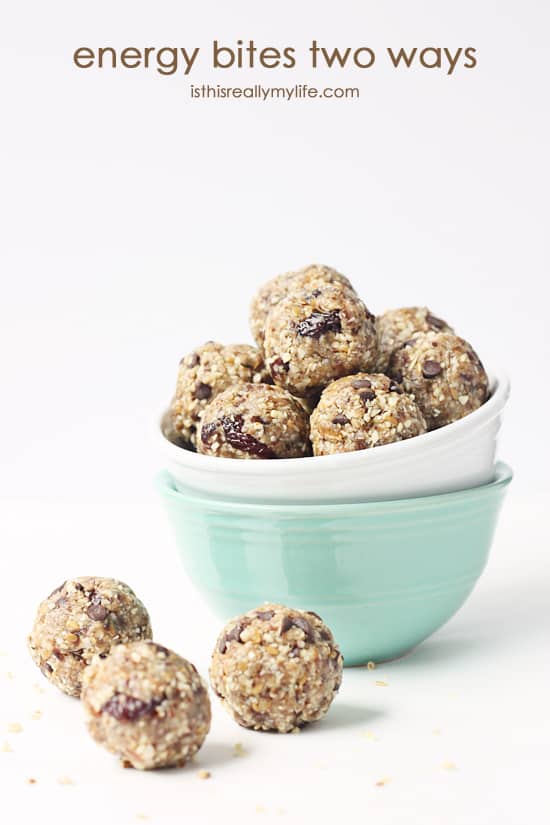 Author:
Emily ~ isthisREALLYmylife.com
¾ cup old fashioned oats
1 T flax seeds
1 T hemp seeds
½ cup almonds
¼ cup cashews (whole, unsalted)
½ cup pecans
6 large medijool dates, seeds removed, coarsely chopped
2 T raw honey
½ tsp vanilla
¼ tsp salt
¼ cup dried cherries, coarsely chopped OR ¼ cup mini semisweet chocolate chips
Pulse oats, seeds and nuts in food processor until cornmeal consistency. Add chopped dates, honey, vanilla and salt, pulsing after each addition.
Continue to pulse mixture until ingredients form a ball or stick together when pinched. Add more oats if mixtures is too wet; more dates or honey if too dry.
Fold in cherries or chocolate chips. Take a heaping tablespoon of the mixture and roll into a ball. Repeat for remaining mix. Refrigerate in an airtight container.
Recipe by
Half-Scratched
at https://www.halfscratched.com/energy-bites-cherry-chocolate-chip/