Lemon Bundt Cake with Orange Glaze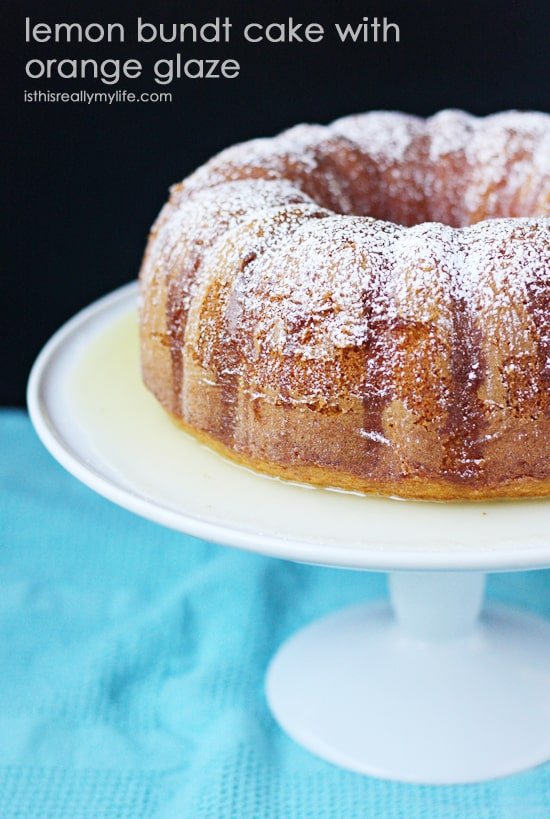 Author:
Emily ~ isthisREALLYmylife.com
1 box lemon cake mix
1 small box lemon instant pudding mix
¾ cup water
½ cup canola oil
¼ cup applesauce
4 eggs
1 cup powdered sugar
⅓ cup orange juice
Preheat oven to 350 degrees. Grease and flour a bundt cake pan.
Beat cake mix, pudding mix, water, oil and applesauce until smooth.
Add eggs one at a time, beating after each addition. Beat on high 2 minutes.
Pour into prepared pan and bake 50 minutes or until a toothpick inserted in the center comes out clean. Let cool 10 minutes.
Invert cake onto serving platter.
Combine powdered sugar and orange juice in a small bowl and whisk until smooth.
Drizzle over cake.*
* Next time I'm going to pour the glaze into the cake pan using the method from this Glazed Lemon Poppy Seed Bundt Cake (https://www.halfscratched.com/2013/04/glazed-lemon-poppy-seed-bundt-cake/) and see if more of the glaze makes it into the cake rather than the platter. It will be an adventure!
Recipe by
Half-Scratched
at https://www.halfscratched.com/lemon-bundt-cake/