Best Dinner Rolls Recipe Ever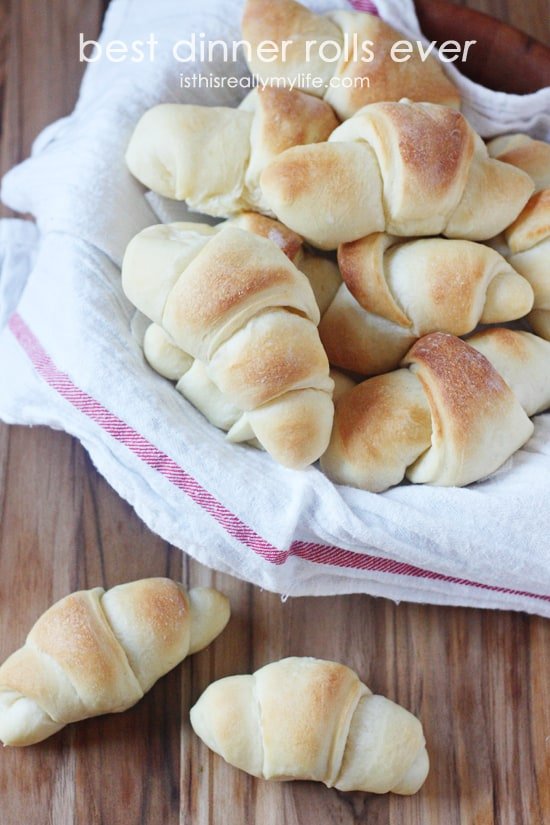 Author:
Emily ~ isthisREALLYmylife.com
½ cup warm water
½ cup warm milk
1 egg, lightly beaten
⅓ cup butter, softened
⅓ cup sugar
1 tsp salt (I prefer Real Salt Fine Sea Salt)
3¾ cup unbleached all-purpose flour
2¼ tsp active dry yeast
2 T butter, softened
Place water, milk, egg, butter, sugar, salt, flour and yeast in the pan of a bread machine. Select dough cycle and press start.
Turn dough out onto a lightly floured surface once cycle is done. If dough is extra sticky, add a little flour until it is smooth and elastic. Divide dough in half and roll each half into about a 12-inch circle.
Spread 1 T of the butter over the entire circle of dough. Cut each circle into 12 wedges. (If you'd like larger rolls, go for 8 wedges.)
Roll wedges tightly but gently starting at wide end. Pinch the pointed end to seal it, which will (hopefully) keep the rolls from unwinding while baking.
Place rolls point side down on baking sheet. Cover with a clean kitchen towel and let rise for about 1 hour or until nearly double in size.
Preheat oven to 400 degrees and bake for 10 to 12 minutes or until golden. (Sometimes mine need only 8 minutes, so watch them carefully!)
Serve warm, preferably with a side of homemade jam.
Recipe by
Half-Scratched
at https://www.halfscratched.com/best-dinner-rolls-recipe-ever/