Salsa Chicken with Mexican Couscous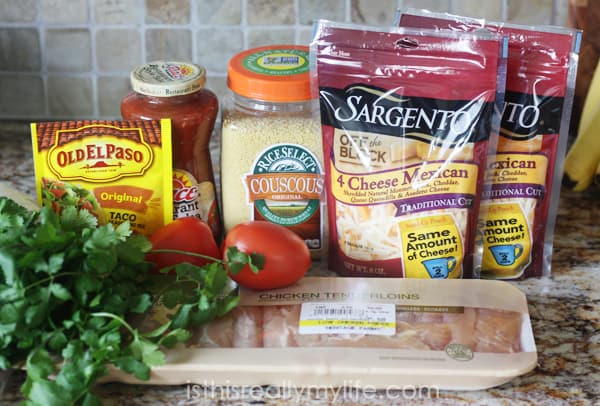 Author:
Emily ~ isthisREALLYmylife.com
2 lbs boneless chicken tenders
4 tsp taco seasoning
1 (16-oz) jar salsa
1 (8-oz) package Sargento Off the Block 4 Cheese Mexican, divided
Sour cream (optional)
1 tsp + 1 T olive oil, divided
½ cup frozen corn
¼ cup diced yellow onion
½ tsp minced garlic
1 cup uncooked couscous
1 tsp salt
1 tsp cumin
1 tsp coriander
1 can diced tomatoes with green chilies
1 cup chicken broth
1 T chopped fresh cilantro (optional)
Preheat oven to 375 degrees.
Place chicken tenders in a large resealable bag with taco seasoning and shake to coat evenly.
Spread 1 cup salsa in bottom of 9x13-inch pan. Place chicken in pan and cover with remaining salsa.
Bake for 25 to 30 minutes or until chicken is tender and juices run clear.
Sprinkle 1½ cups of cheese over chicken and bake another 5 minutes or until cheese is melted and bubbly. Top with sour cream and serve.
Add 1 tsp of oil to a small saute pan and heat over medium-high heat. Add frozen corn and cook, stirring occasionally, until corn looks as if it's been grilled. Set aside.
Heat 1 T oil in a medium saucepan over medium heat. Add onion and garlic and saute for 1 to 2 minutes.
Stir in cooked corn, salt, cumin, coriander and chicken broth and bring to a boil.
Reduce heat and simmer, covered, for 10 to 12 minutes or until liquid has been absorbed.
Fluff with a fork and top with cilantro before serving.
Recipe by
Half-Scratched
at https://www.halfscratched.com/salsa-chicken-mexican-couscous/