Lemon Poppy Seed Pancakes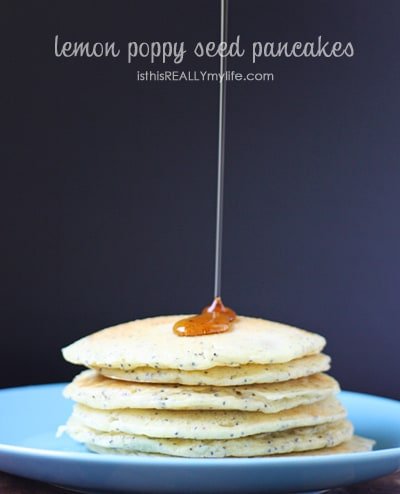 Author:
Emily ~ isthisREALLYmyilfe.com
2 T sugar
Zest from 1 lemon
2 cups flour
2 tsp baking powder
1 tsp baking soda
1 tsp salt
2 cups buttermilk
2 large eggs
½ T vanilla extract
2 T fresh lemon juice
4 T unsalted butter, melted
2 T poppy seeds
Combine granulated sugar and lemon zest in a small bowl, rubbing together with your fingers until sugar is fragrant.
Whisk together flour, baking powder, baking soda and salt in a large bowl. Fold in the lemon sugar.
Whisk together buttermilk, eggs, vanilla extract, lemon juice and melted butter in a separate bowl. Add wet ingredients all at once to dry ingredients. Fold in poppy seeds and stir to combine. Let batter rest for 10 minutes while.
While batter rests, preheat griddle or nonstick skillet over medium heat.
Place a griddle, or a nonstick saute pan over medium heat. Spray lightly with nonstick cooking spray. Pour about ¼ cup of batter onto griddle for each pancake. Cook until golden brown on the bottom and and bubbling on top. Flip once and cook until golden brown on each side.
Serve with butter and powdered sugar or syrup.
Recipe by
Half-Scratched
at https://www.halfscratched.com/pinterest-lemon-poppy-seed-pancakes/