Classic Peanut Butter Cookies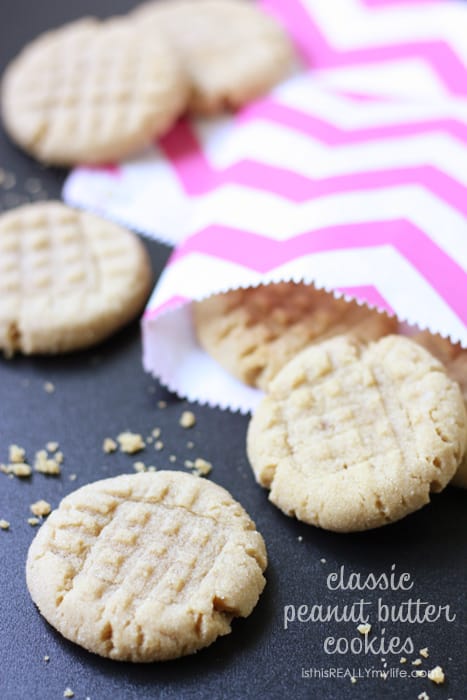 Author:
Emily ~ HalfScratched.com
¾ cup butter, softened
¾ cup brown sugar, packed
½ cup sugar plus ¼ cup sugar, divided
1 cup peanut butter*
2 eggs at room temperature
1½ tsp vanilla
2 cups flour
½ tsp baking soda
½ tsp baking powder
¼ tsp salt
Preheat oven to 350 degrees.
In a large bowl, beat the butter until creamy. Add the brown sugar and ½ cup sugar and cream together. Beat in the peanut butter. Add the eggs one at a time, mixing until thoroughly combined. Mix in vanilla.
In a small mixing bowl, whisk the flour, baking soda, baking powder and salt. Add dry ingredients to creamed mixture and combine well.
Pour the remaining ¼ cup sugar in a small bowl. Take a heaping tablespoon of dough and form into a ball. Coat the ball in sugar by rolling it around in the bowl. Place dough on an ungreased cookie sheet about 2 inches apart.
Press the tines of a fork into the cookie dough to gently flatten the dough and create the cross-cross pattern on the top. Bake for 10 to 12 minutes or until cookies are set. Let cool on cookie sheet 2 minutes before moving to a wire rack to cool completely.
* If using all natural peanut butter, increase the flour by another ¼ to ½ cup so the dough is easier to roll. Natural peanut butter tends to be a bit runnier.

NOTE: If dough is too soft, refrigerate for 30 minutes or more until set enough to gently roll.
Recipe by
Half-Scratched
at https://www.halfscratched.com/classic-peanut-butter-cookies/