Chocolate Caramel Cookie Blondies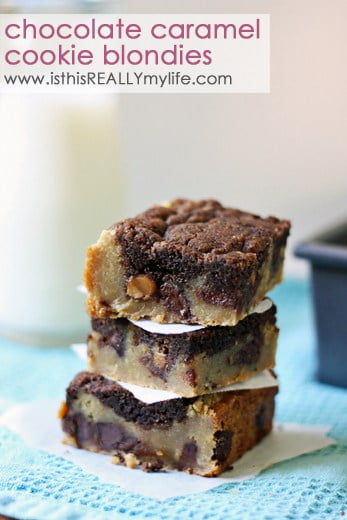 Author:
Emily ~ isthisREALLYmylife.com
½ cup unsalted butter
¾ cup sugar
1 egg
1 tsp McCormick vanilla extract
1 cup flour
⅓ cup natural unsweetened cocoa powder
⅜ tsp baking soda
¼ tsp salt
1 bag caramel bits
½ cup salted butter, melted
1 cup brown sugar
1 egg
½ tsp McCormick almond extract OR 1 tsp McCormick vanilla extract
Pinch of salt
1 cup flour
In a large bowl, cream together butter and sugar until light and fluffy (about 2 to 3 minutes). Add eggs and vanilla and beat another 1 to 2 minutes.
In a separate bowl, combine flour, cocoa, baking soda and salt. Add to butter mixture and mix until thoroughly combined.
Fold in caramel bits. Set aside.
Preheat oven to 350 degrees; grease an 8x8-inch pan.
In a medium bowl, mix melted butter with brown sugar and beat until smooth. Beat in egg and vanilla.
Add salt and stir in flour. Pour into pan.
Drop chocolate caramel cookie dough by teaspoonfuls onto blondies and gently press into batter. (Remember, you'll use only half the dough or so.)
Bake uncovered 20 minutes. Cover with foil and bake another 10 minutes until edges are golden brown. Cool completely before serving.
-25 minutes, or until set in the middle. I always err on the side of caution with baking times — nobody ever complained about a gooey-middled cookie. Cool on rack before cutting them.
Recipe by
Half-Scratched
at https://www.halfscratched.com/chocolate-caramel-cookie-blondies-recipe/