Glazed Lemon Poppy Seed Bundt Cake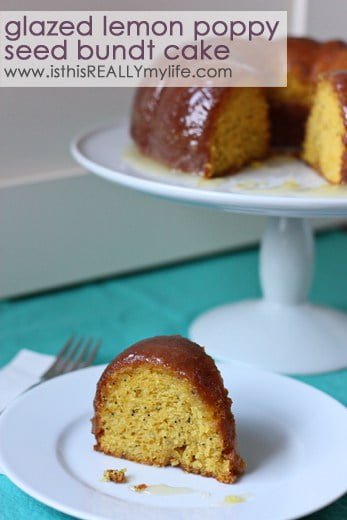 Author:
Emily ~ isthisREALLYmylife.com
1 box lemon cake mix
1 large (or 2 small) package instant vanilla pudding mix
½ cup fruit juice
1 T poppy seeds
½ cup water
½ cup oil
4 eggs
1 cup granulated sugar
¼ cup water
1 cup butter
Preheat oven to 350 degrees. Grease and flour bundt pan.
In a large mixing bowl, combine cake mix, pudding mix, fruit juice, poppy seeds, water and oil. Beat until combined.
Add eggs one at a time, beating after each addition. Beat on medium speed 2 minutes.
Pour mixture into bundt pan and bake for 45 minutes or until a toothpick inserted into center of cake comes out clean.
Remove from oven; leave in pan.
Start glaze last 10 minutes of baking.
In a large saucepan, combine sugar, water and butter. Bring to a boil and boil 5 to 7 minutes or until sugar is completely dissolved.
Pour over bundt cake in pan, gently pulling the sides away to allow the glaze to settle to the bottom (top) of cake.
Let sit at least 45 minutes to an hour before turning onto serving platter. Enjoy warm or let cool.
Recipe by
Half-Scratched
at https://www.halfscratched.com/glazed-lemon-poppy-seed-bundt-cake/