Somehow I ended up in charge of Livi's 3rd grade class Valentine's Day party. I think it's because my name was the first one on the list. (Note to self: make sure yours is the last name on the list.)
Before you think I'm a slacker, I've been a room mom, organized class holiday parties and served on the PTA board. This year I was looking to simplify a bit by sticking with twice-a-month classroom volunteering (in two classes), keeping the teachers supplied with Kleenex, hand sanitizer, and Clorox wipes and helping with—not organizing—parties.
It's okay. I've since embraced my role as 3rd grade Valentine's Day party planner and it only took an extra few ounces of Diet Coke (per day). We'll be doing four simple stations: doing a craft, decorating cookies, playing bingo and playing another Valentine's Day game. All the organizing got me thinking there might be someone else out there looking for last-minute easy Valentine's Day class party ideas. I took our general party plan, found some great ideas online and combined them for a simple yet super duper fun Valentine's Day class party. Have fun!
.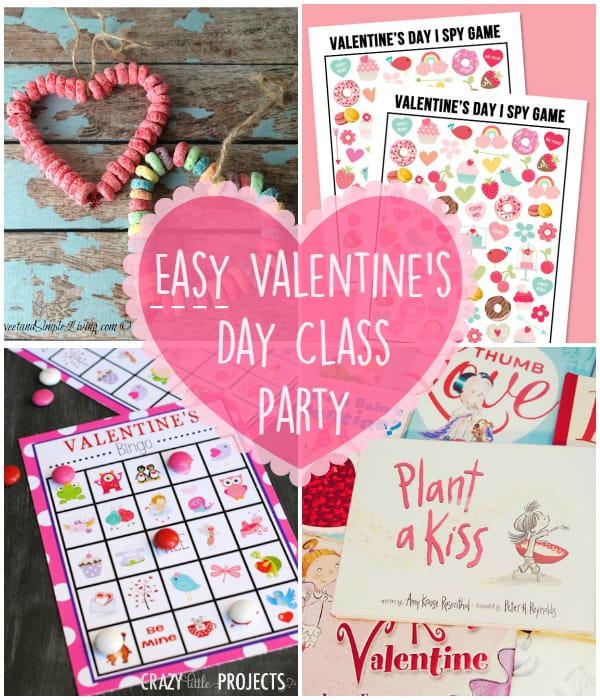 .
.
Station #1: Frosted Cookies
Our school PTA provides each classroom with heart sugar cookies and pink frosting. Even if your school doesn't do this, you can usually find a local grocery store with a bakery that offers seasonal or round sugar cookies for super cheap. Once you have the cookies and frosting, all you need are small paper plates, napkins, plastic knives (lots because they seem to get licked...a lot), sprinkles, red hots, conversation hearts and colored sugar. Yep, those kids will put ALL of those on their cookies. I also like to have mini bottled waters or juice and small cups for the kids to drink while decorating.
This year I found these super cute treat bags in the dollar section at Target.
Though most kids eat their cookies within 30 seconds flat (1/2 pound of frosting and all), some like to take them home. Without a treat bag or box, I doubt they make it past the playground without sliding off the plate. Yum.
.
Station #2: Valentine's Day Bingo
I don't know what it is, but kids LOVE bingo. We have a bingo game at pretty much every class party. I used this Dr. Seuss bingo game for George's 4th grade Christmas party because we had a Grinch theme. It was a blast! I love this Valentine's Day bingo from Crazy Little Projects. To die for!
.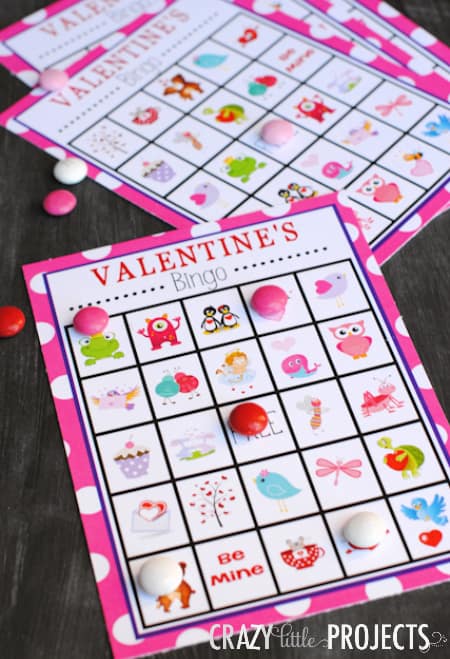 Free printable Valentine's Day bingo game from Crazy Little Projects
.
Station #3: Simple Valentine's Craft
I'm all about minimizing crafty messes—glue stick instead of Elmer's, little to no drying time, and absolutely no glitter. This Fruit Loop heart bird feeder from Sweet and Simple Living may be a preschool craft but I'm pretty dang sure elementary school-aged kids would totally love making it. All it requires are pipe cleaners, Fruit Loops and some twine. Perfect!
.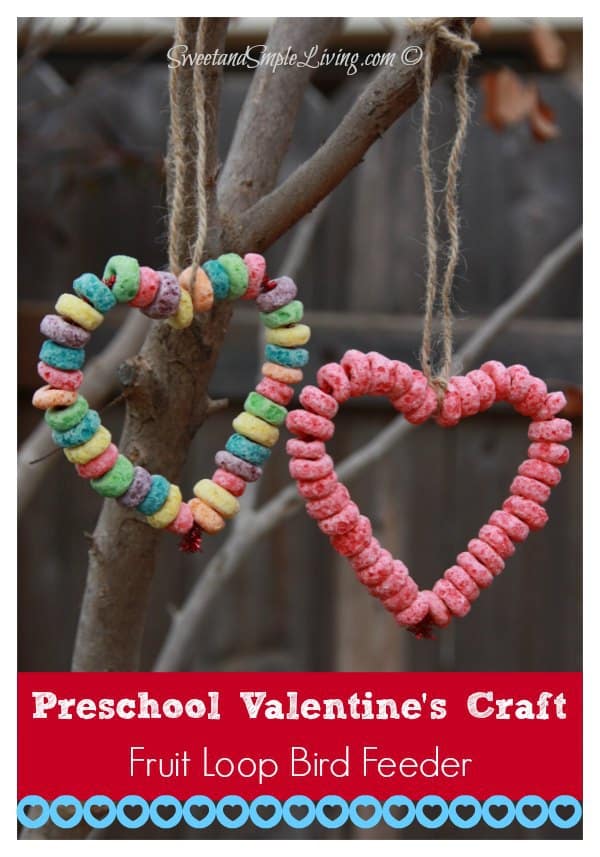 Fruit Loop heart bird feeder from Sweet and Simple Living
.
Station #4: Valentine's Day I Spy and/or Musical Hearts
If you feel I Spy is a bit too similar to bingo, than go with musical hearts. It all depends on how much time and space you have at each station. Any variation of musical chairs is always a hit, and what kid doesn't love trying to win at I Spy?
For musical hearts, all you have to do is come with some construction paper hearts and a kid-friendly Valentine's Day playlist. You can find some great songs HERE...
For I Spy, print off this adorable Valentine's Day I Spy printable from Live Laugh Rowe and have some small prizes on hand for the winners and runners-up. Prize ideas include mini bubbles, erasers, pencils, conversation hearts, bouncy balls, etc.
.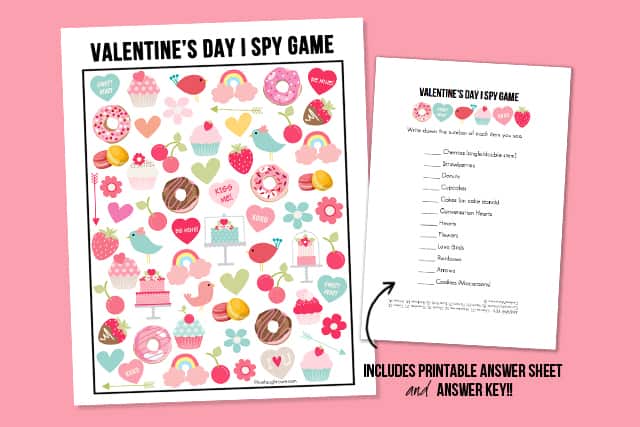 Valentine's Day I Spy + answer sheet from Live Laugh Rowe
.
Station #5: Valentine's Stories
I'm all about reading stations at parties; sometimes you need a pause in the crazy. I suggest putting the reading station between your two busiest stations—maybe musical hearts and bingo. (Bingo gets crazy, people.) Or if you don't have time for five stations, you can combine the frosted cookies with a story.
Simple as That has put together 32 lovable valentines books for kids and she's included two of my favorites: Somebody Loves You, Mr. Hatch and Falling for Rapunzel.
.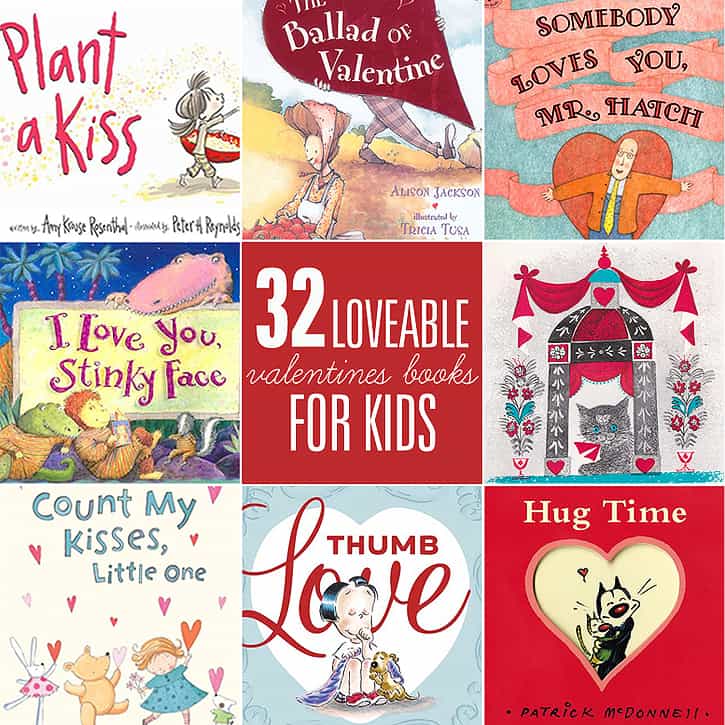 32 lovable valentines books for kids from Simple as That
.
.
If you're looking for more Valentine's Day ideas, check out my be my valentine Pinterest board.
.
.

Feel free to "like" is this REALLY my life? on Facebook. It won't always earn you an extra entry in a giveaway but it will give you warm fuzzies.
Don't forget to sign up for free is this REALLY my life? updates via RSS or email so you don't miss a single awesome post.
.