This week I am featuring 4th of July-themed posts by three of my favorite bloggers. Today I bring you easy summer grilled chicken from Jenny Layton over at The Happy Gal.
Pretty sure this recipe needs to be served at your next backyard BBQ.
You can never have too many marinade recipes, right? Especially when you grill extra to save later for salads and lunches during the week (see my post Making Healthy Eating Easy HERE.) So here is another fabulous chicken marinade from The Happy Gal. It's healthy, it's delicious, and it is going to make your summer BBQs a sure hit! Enjoy!
This easy summer grilled chicken recipe is also part of an amazing, healthy 4th of July BBQ. Click HERE to see the entire BBQ.
Easy Summer Grilled Chicken
This recipe is guest post by my friend Jenny over at TheHappyGal.com. She makes the most delicious recipes including this one for summer grilled chicken.
Author:
The Happy Gal via isthisREALLYmylife.com
Ingredients
4 boneless chicken breasts, trimmed
1 cup fat-free balsamic vinaigrette
½ cup balsamic vinegar
¼ cup fresh parsley, chopped
2 T frozen orange juice concentrate
1 T Italian seasoning
2 tsp minced garlic
Instructions
Mix balsamic vinaigrette, vinegar, parsley, orange juice concentrate, Italian seasoning and garlic in bowl. Add chicken and marinade 4 hours or overnight.
Place chicken on hot, oiled grill. Cook 3-4 minutes per side or until chicken is no longer pink the middle.
Happy Gal Tip: This makes a great freezer meal. Just place fresh chicken breasts in a freezer bag, combine remaining ingredients in a separate bowl, then add marinade into the bag. Freeze on a flat surface in the freezer (so the shape is convenient to store.) When ready to serve, thaw and grill.
Image by Sandrine Hudgens at creoleartphotography
…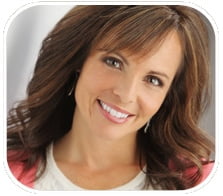 I adore Jenny. She always posts all kinds of wonderful things related to health and fitness, from recipes to workout plans, on her blog TheHappyGal.com. You'll want to follow her on all her social media channels:
Thank you for guest posting today, Jenny!