This post is part of a social shopper marketing insight campaign with Pollinate Media Group® and Pop Secret, but all my opinions are my own. #pmedia #pop4Fantastic4 http://my-disclosur.es/OBsstV
If you know our family at all, you know we LOVE movies. Whether it's date night for Mom and Dad (yippee!) or family bonding while watching the latest and greatest animated film, we're serious moviegoers.
But we've found that taking a family of six to the movies, even if it's a matinee, can put a serious dent in the checkbook. When we go to the movie theater, we like to throw in our favorite treat (scones) and some drink refills.
Before we know it, we're spending over $60! That's why we love in-home family movie nights complete with treats like this quick and easy peanut butter popcorn. Not only is it far more affordable but you can wear your pajamas and pause the movie for potty breaks!
A movie night isn't complete without popcorn (and Diet Coke…duh), and while we love pretty much every microwave popcorn, I'm not lying when I say Pop-Secret popcorn pops the best. We've popped enough microwave popcorn to know you'll find fewer popcorn kernels left at the bottom of the bag if you go with Pop-Secret. Plus, with nearly 20 Pop-Secret flavors to choose from, you can please every single one of your movie critics.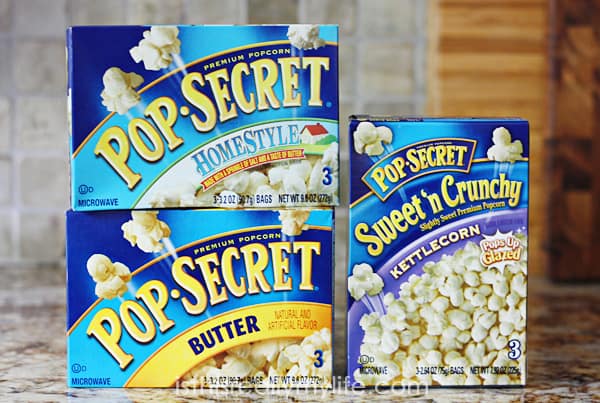 To make this easy peanut butter popcorn, I used Pop-Secret Homestyle popcorn from Walmart. It had just a hint of salt and butter making it the perfect base for peanut butter coating.
Yes, you can use microwave popcorn to make a gourmet popcorn recipe. Before this recipe, I had no idea you could do so.
Cue "A Whole New World"…
You seriously won't believe how easy this peanut butter popcorn is to make, but you will believe how easy it is to eat after you've taken your first bite. My family may have polished off the entire bowl in one night. And that's without watching a double feature!
If you're super creative, you could probably even sneak a bag of peanut butter popcorn into the movie theater if you're headed to see
Fantastic Four. You'll want something to munch on while watching such a fun action flick. And guess what. You can watch it for free using this super awesome Pop-Secret promo:
Buy any 3 Pop-Secret items between 7/31 – 8/31 and get a Free ticket to the Fantastic Four movie (up to $5) while supplies last.
Printable recipe for quick and easy peanut butter popcorn below. Enjoy!
Quick & Easy Peanut Butter Popcorn
Use microwave popcorn and 4 ingredients to make a super easy, gourmet-tasting popcorn!
Author:
Emily ~ isthisREALLYmylife.com
Ingredients
2 bags Pop-Secret Homestyle popcorn
½ cup salted butter
½ cup sugar
¼ cup honey
½ cup peanut butter
Instructions
Pop popcorn according to package directions. Empty into a large bowl and remove any unpopped kernels.
Combine butter, sugar and honey in a small saucepan. Bring to a boil over medium heat and boil 2 minutes, stirring constantly. Remove from heat and stir in peanut butter until thoroughly combined.
Pour peanut butter mixture over popcorn and toss to coat. Serve immediately. Store in an airtight container for up to 3 days.