These easy coconut macaroons are slightly crunchy on the outside, perfectly chewy on the inside and a cinch to make. Dip 'em in dark chocolate for an irresistible treat!
.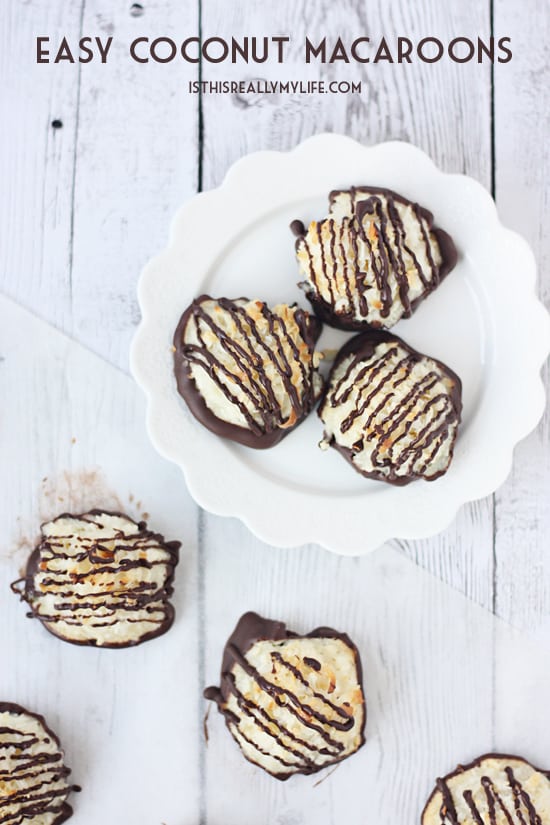 .
Post may include affiliate links, which means if you click on a link and purchase something, you won't pay anything extra but it will help support this blog.
.
I love all things coconut—coconut oil, coconut cream pie, Almond Joy, Mounds, coconut cookie thins, German chocolate cake (there's coconut in that frosting), piña coladas (there's coconut in there somewhere). Because I love coconut so much, I can't ever resist a batch of coconut macaroons.
.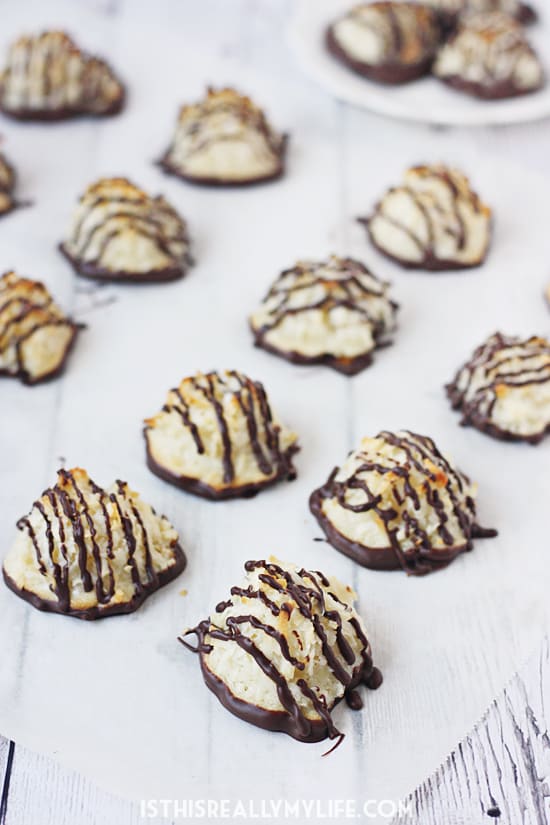 .
When baked correctly, these easy coconut macaroons are slightly crunchy on the outside and oh-so-chewy on the inside. And if they're dipped in dark chocolate with an added chocolate drizzle on top, it's all I can do not to eat every single one. In one sitting.
.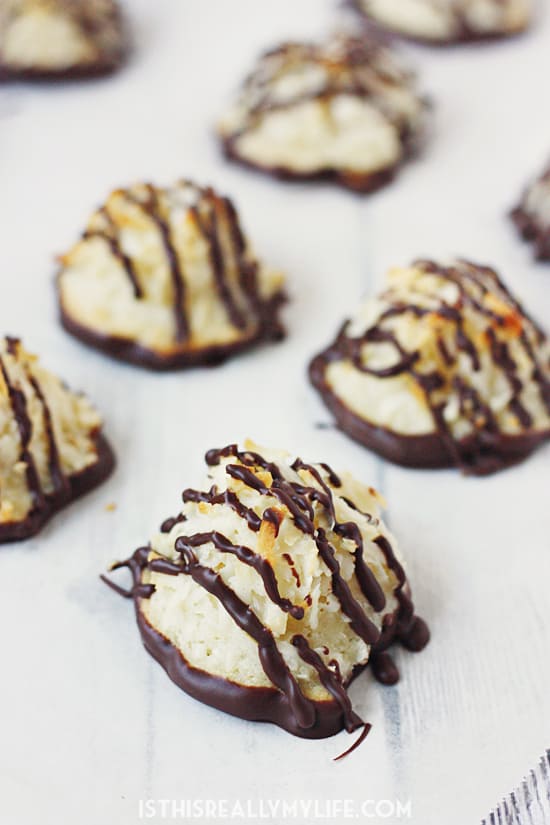 .
These coconut macaroons feature only five ingredients (not including the chocolate; that's optional) and take less than 10 minutes to make (not including bake time). The only tricky part is making sure you beat the egg whites long enough to form nice, stiff peaks. I've learned the hard way that if you don't beat them long enough—and don't fold them in gently enough—your macaroons will "puddle" while baking. On a positive note, if that happens, they won't look pretty but they'll still taste dang good.
.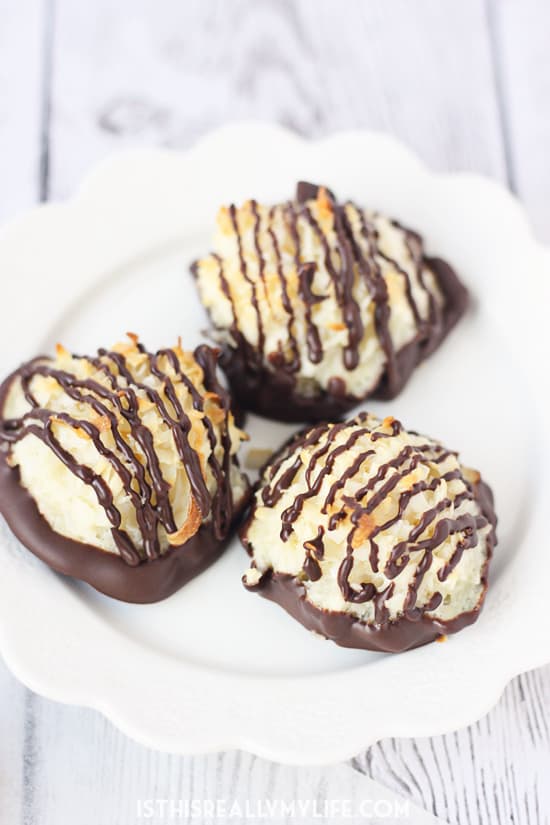 .
I found a medium scoop (about 1 3/4 inches) is perfect for these coconut macaroons, but if you prefer smaller, bite-size treats, go with the small scoop. And then when you're doing using that scoop for these easy macaroons, whip up a batch of these large batch cowboy cookies. (They totally have coconut too!)
Printable recipe for easy coconut macaroons below. Enjoy!
.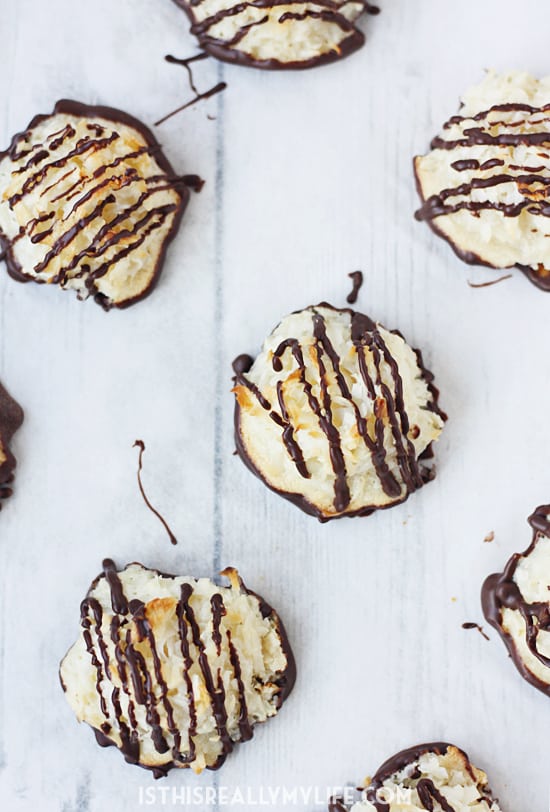 .

Easy Coconut Macaroons
Coconut macaroons are slightly crunchy on the outside, perfectly chewy on the inside and easy to make. Dip 'em in dark chocolate for an irresistible treat! Makes approx. 2 dozen.
Author:
Emily ~ isthisREALLYmylife.com
Ingredients
1 (14-oz) package sweetened shredded coconut
1 (14-oz) can sweetened condensed milk
1 tsp vanilla extract
2 extra-large egg whites, room temperature
¼ tsp kosher salt
1 (10-oz) package Ghirardelli dark melting wafers (or your favorite melting chocolate)
Instructions
Preheat the oven to 325 degrees. Line a baking sheet with parchment paper.
Combine the coconut, condensed milk and vanilla in a large bowl and set aside.
Whip the egg whites and salt on high speed in the bowl of an electric mixer fitted with whisk attachment until they make firm peaks. Carefully fold the egg whites into the coconut mixture.
Drop batter onto baking sheet using a medium scoop (or by rounded tablespoon). Bake 25 to 30 minutes until golden brown. Remove from oven and allow to cool.
Melt chocolate according to package directions. Dip bottom ⅛-inch of macaroons in chocolate and place on parchment paper. Drizzle with remaining chocolate. Allow to set before storing in an airtight container.
.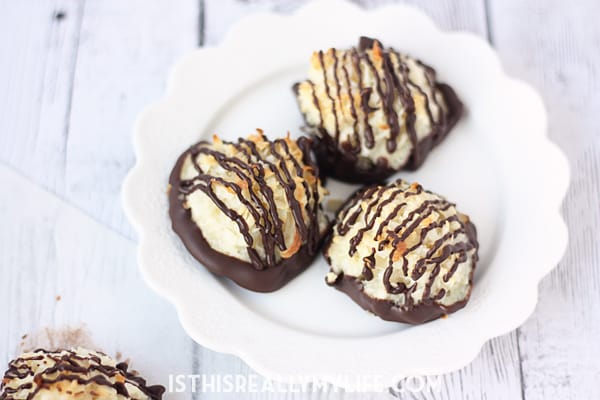 .
Here are a few more of my favorite cookie recipes!
.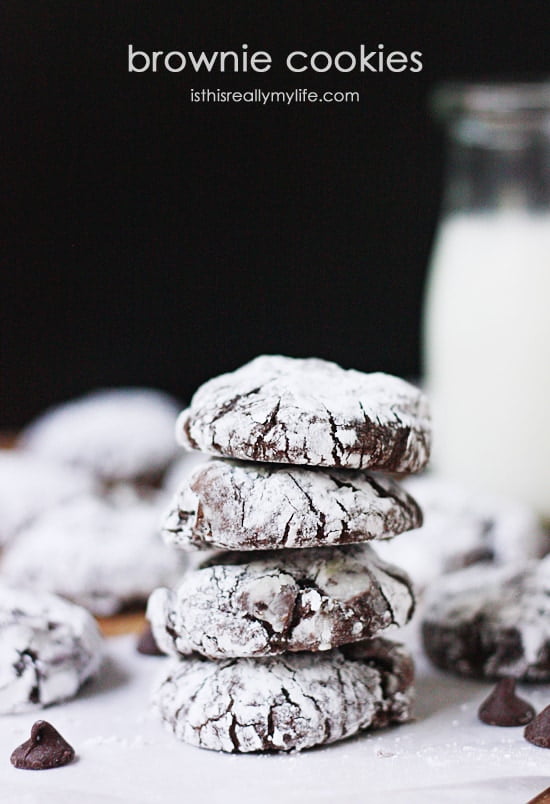 .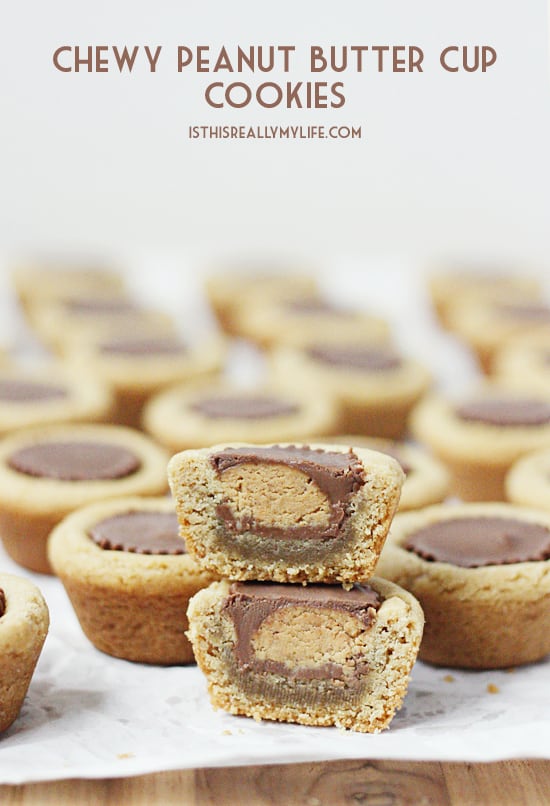 Chewy peanut butter cup cookies
.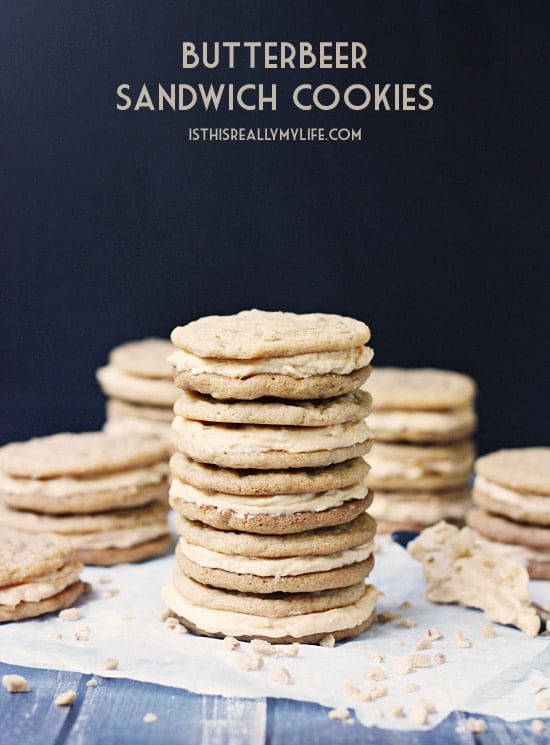 .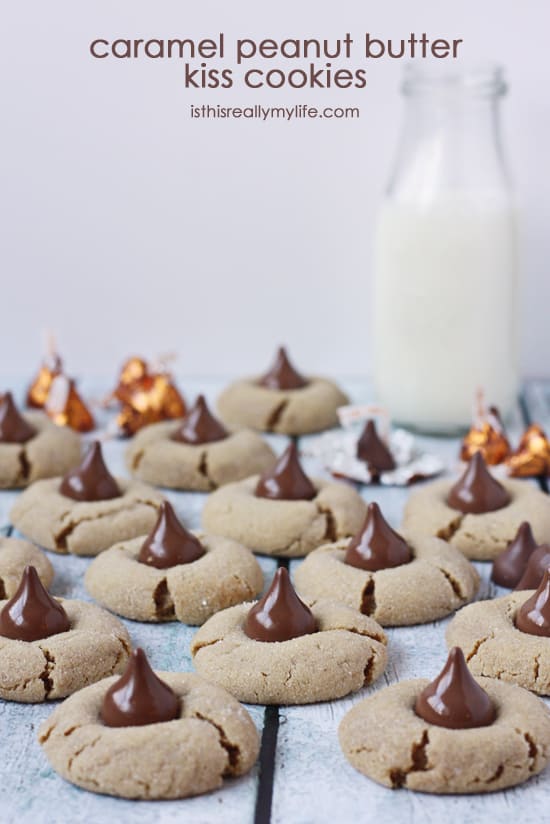 Caramel peanut butter kisses cookies
.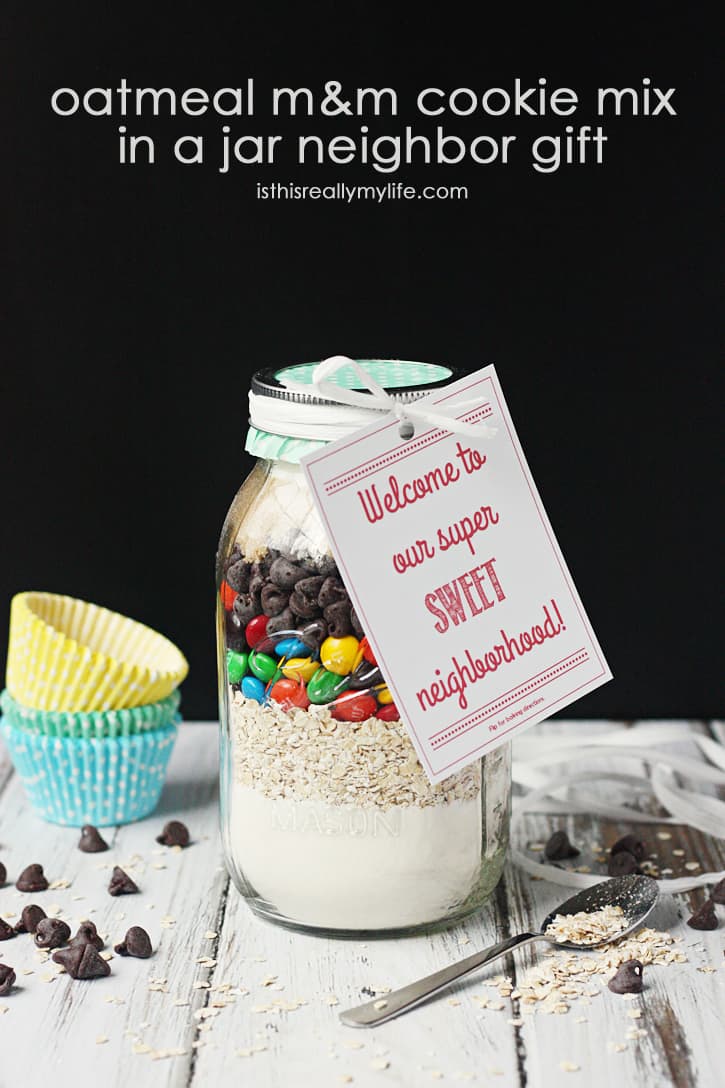 Oatmeal M&M cookie mix in a jar
.
.
Looking for more yummy recipes? Try browsing my best of Is This Really My Life Pinterest board. I guarantee you'll find quite a few!
.
.

Feel free to "like" is this REALLY my life? on Facebook. It won't always earn you an extra entry in a giveaway but it will give you warm fuzzies.
Don't forget to sign up for free Is This Really My Life updates via RSS or email so you don't miss a single awesome post.
.