What do you do with the leftover apples from that super delicious easy apple crostata with puff pastry you made for your family party? You make an equally easy apple pull-apart bread with vanilla glaze.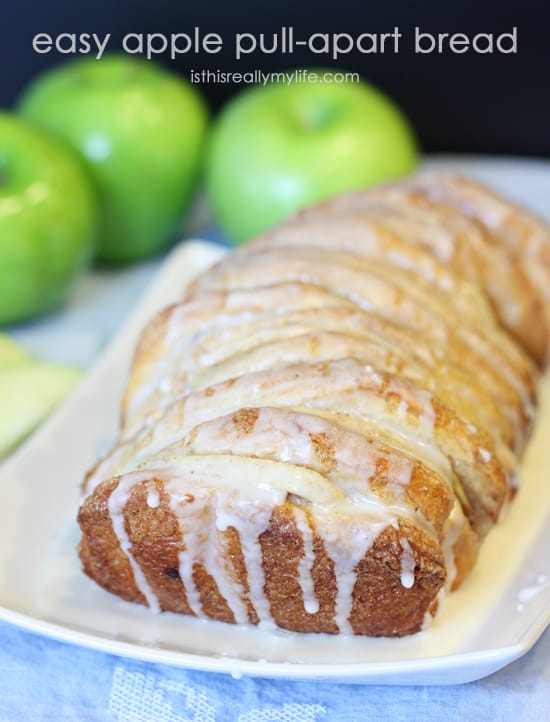 Of course, you can make this apple pull-apart bread using non-leftover apple slices, but if I can get two desserts out of one apple peeling-slicing-coring session, it's a really, really good day. Plus it's not really "easy" if you're not using leftover apples. But don't worry, if you don't have leftover apple slices, I included ingredients and directions to make them. (They're the same as the apple slices used in that delicious apple crostata.)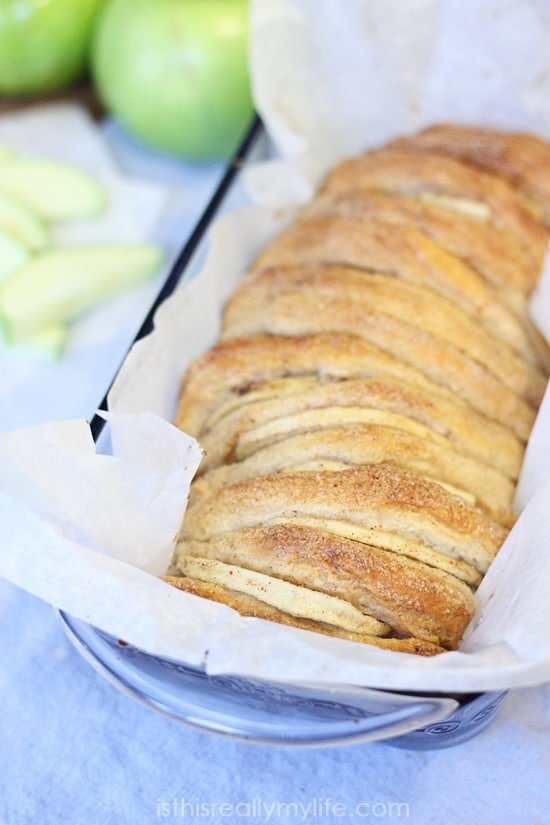 This easy apple pull-apart bread with vanilla glaze tastes best if eaten while still warm (not that eating something hot from the oven is ever a problem for me). Yes, it can be stored on the counter, tightly covered, for a day or two, but take my advice and eat it the same night you bake it.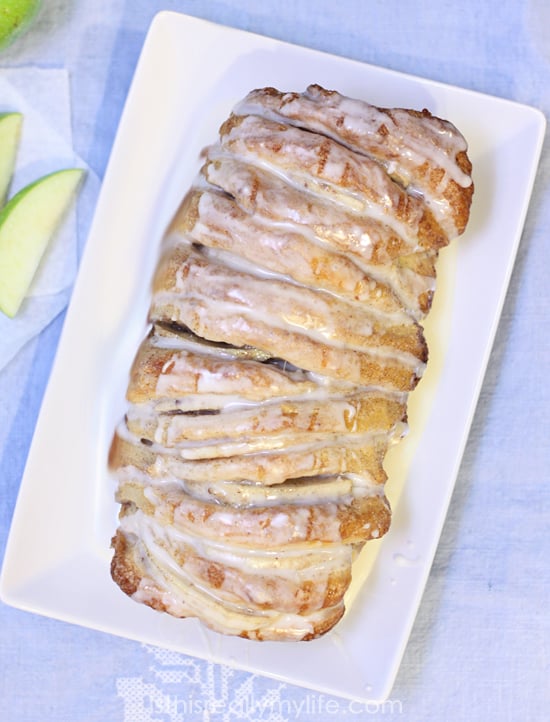 If you're going to be doing a lot of apple peeling and slicing because you're making, say, a Dutch apple pie for Christmas Eve dinner and this apple bread for Christmas Day breakfast, you'll want to invest in a good apple peeler. Plus, an apple peeler makes it easier for the kids to help with the baking.
And by help with the baking, I mean create the biggest mess possible in the shortest amount of time.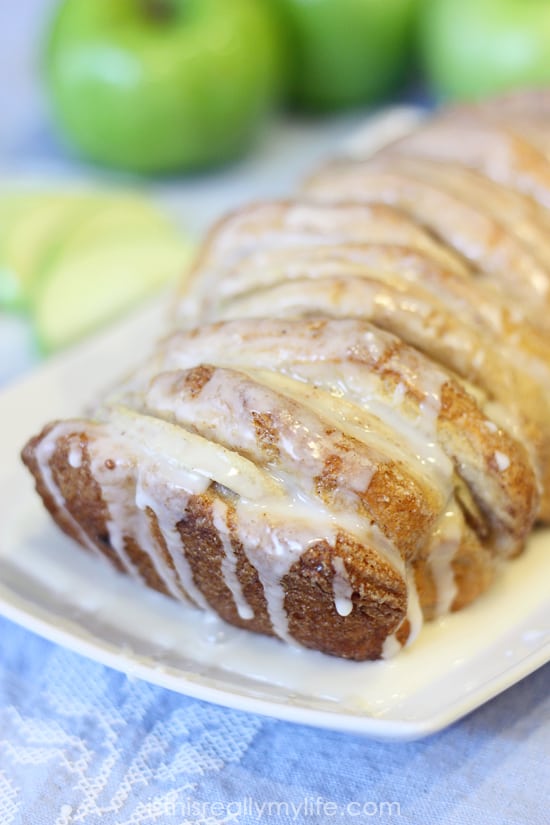 Printable recipe for easy apple pull-apart bread with vanilla glaze below. Enjoy!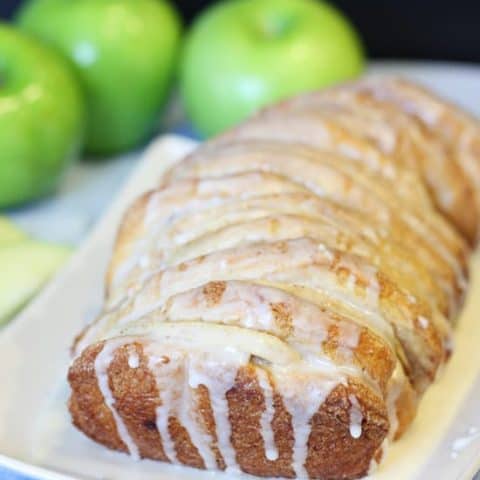 Easy Apple Pull-Apart Bread with Vanilla Glaze
This easy apple pull-apart bread is a great way to use leftover apple slices from your crostata or pie. If you don't have leftover apple slices, use the "Apple slices" section below for making a new batch.
Ingredients
Apple slices (if you don't have leftovers)
1 large Granny Smith apple, peeled and sliced into thin wedges
¼ tsp grate orange zest
¼ cup flour
½ cup granulated sugar
1 ½ T lemon juice
¾ tsp cinnamon
¼ tsp allspice
¼ tsp nutmeg
Bread
⅓ cup granulated sugar
1 teaspoon ground cinnamon
¼ teaspoon ground nutmeg
1 (16 oz.) tube Pillsbury Grands Flaky Layers Biscuits
Vanilla glaze
1 cup powdered sugar
1 ½ tablespoons milk, any kind
¼ teaspoon vanilla extract
Instructions
Apple slices
Combine apple slices, zest, flour, granulated sugar, lemon juice, cinnamon, allspice and nutmeg and toss to coat evenly. Set aside.
Bread
Preheat oven to 350 degrees. Line loaf pan with parchment paper and spray lightly with nonstick cooking spray.
Mix sugar, cinnamon and nutmeg in a shallow dish and set aside.
Slice each biscuit horizontally in half, creating 16 thin biscuits. Coat each half with cinnamon-sugar mixture and layer in the loaf pan, alternating biscuits with apple slices. Start and finish with coated biscuits.
Bake for 35-40 minutes or until bread is fully cooked through.
Vanilla glaze
Mix all ingredients in a medium bowl and drizzle over warm bread. Serve immediately.
Nutrition Information:
Yield:

6
Serving Size:

1
Amount Per Serving:
Calories:

288
Total Fat:

3g
Saturated Fat:

1g
Trans Fat:

0g
Unsaturated Fat:

2g
Cholesterol:

1mg
Sodium:

156mg
Carbohydrates:

65g
Fiber:

2g
Sugar:

50g
Protein:

2g
If you're looking for some leftover apple slices, you'll find them when baking one of these apple desserts!