This holiday season I once again had the amazing opportunity to guest post on Tatertots & Jello. In my previous post, I shared my favorite brown sugar pecan cookies. I followed those sweet brown-sugary cookies with a savory New Year's Eve shrimp dip. This year I went back to my dessert roots (my favorite of all the roots) and baked an easy apple apricot crostata with puff pastry.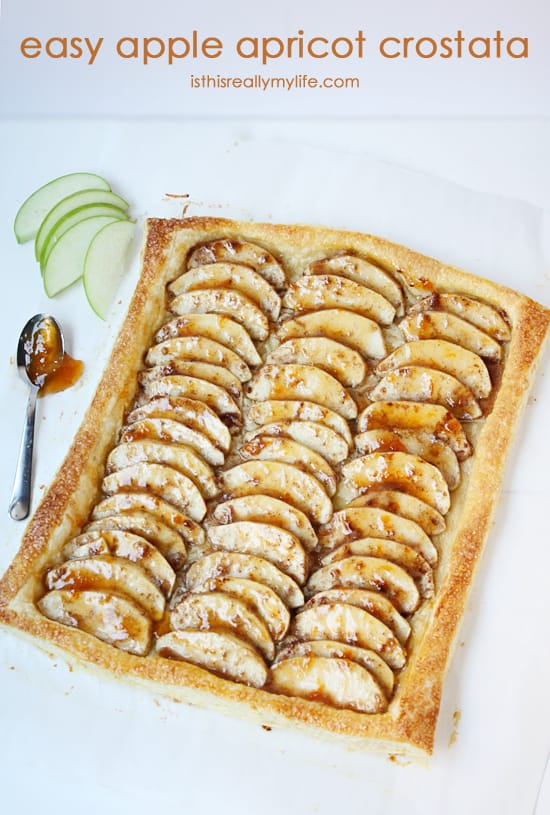 I love the simple beauty of a crostata but I'd never made one before, and I'll be honest, I was nervous. I decided to use puff pastry for my first attempt at apple crostata and it turned out lovely. In fact, my husband may have said this apple apricot crostata with puff pastry was the fanciest dessert he's seen me bake...and he's totally right. Though I make tons of yummy desserts (peanut butter chocolate trifle, cookie dough pretzel bites, salted caramel butter bars), none of them are as pretty as this apple apricot crostata.
Of course, what they lack in pretty they more than make up for in taste.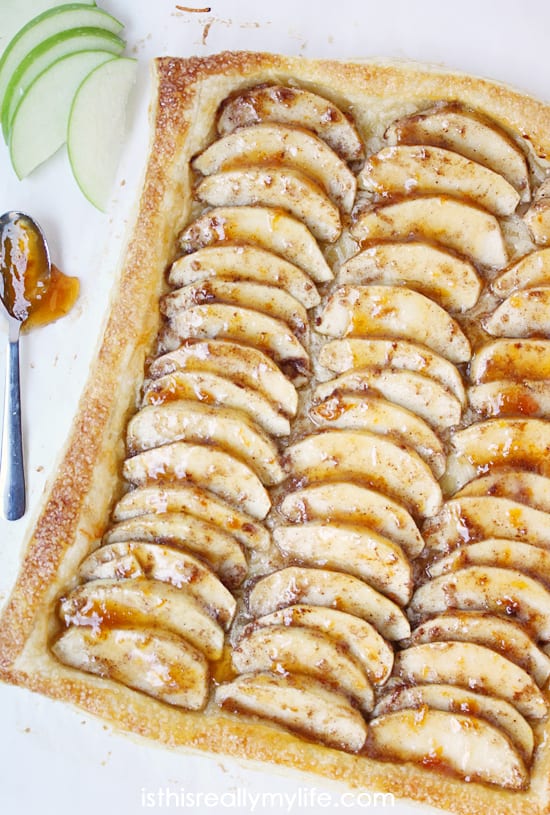 I'm totally not lying when I say this apple apricot crostata (or tart) is easy to bake. Slicing the apples and preparing the puff pastry takes some time but it doesn't take mad skills.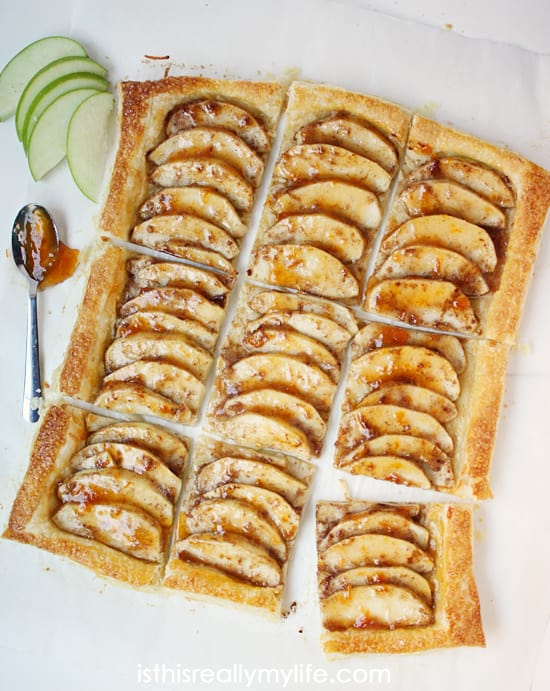 While a crostata is traditionally made using pie crust or shortbread dough, I'm loving the puff pastry. It's easier to prep (i.e., harder to mess up) and makes for pretty edges with yummy, sugary, flaky layers.
I'm all about yummy, sugary and flaky.
If you want even thinner slices and even less prep work, go with an apple peeler. I love mine and always use it when making my famous Dutch apple pie. Don't love apples? Try substituting pears. Honey can also be used in place of apricot preserves. No matter your combination, holiday guests will think you spent hours making that easy apple apricot crostata with puff pastry.
Mission accomplished.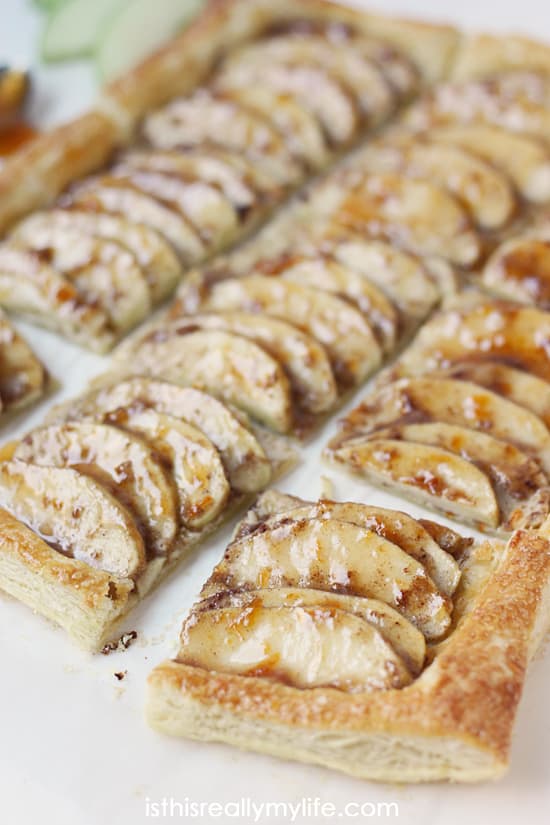 Printable recipe for easy apple apricot crostata with puff pastry below. Enjoy!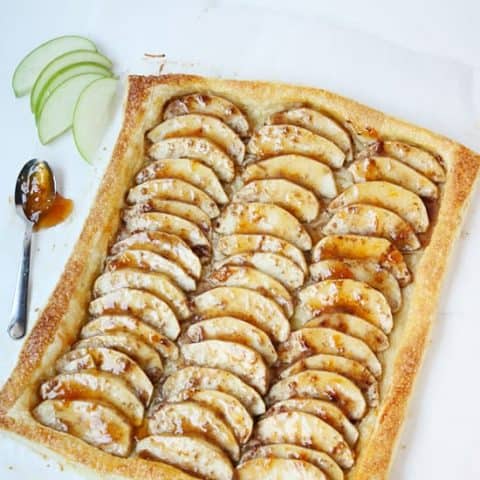 Easy Apple Apricot Crostata with Puff Pastry
This easy apple crostata with puff pastry is one of the easiest and prettiest desserts you'll ever make!
Ingredients
Crust
1 puff pastry sheet, thawed
1 large egg, lightly beaten
Coarse sugar
Filling
2 large Granny Smith apples peeled and sliced into thin wedges
¼ tsp grate orange zest
¼ cup flour
½ cup granulated sugar
1 ½ T lemon juice
¾ tsp cinnamon
¼ tsp allspice
¼ tsp nutmeg
¼ cup apricot preserves, warmed
½ cup shredded sharp white cheddar cheese
Instructions
Preheat oven to 400 degrees. Line a baking sheet with parchment paper.
Combine apples, zest, flour, granulated sugar, lemon juice, cinnamon, allspice and nutmeg and toss to coat evenly. Set aside.
Gently unfold pastry sheet on a lightly floured surface; roll into a 15 x 11-inch rectangle. Transfer to baking sheet.
Score (do NOT cut) a rectangle border about 1-inch wide. Poke the inner rectangle with a fork and trim edges so you have a perfect rectangle. (See photo in original post.)
Sprinkle cheese evenly over inner rectangle. Layer apple slices on top of cheese. Brush 1-inch border with egg wash and sprinkle with coarse sugar.
Bake 25 to 30 minutes or until crust is golden brown. Remove from oven and transfer to a cooling rack; brush apples with apricot preserves. Let cool 10 minutes before slicing and serving.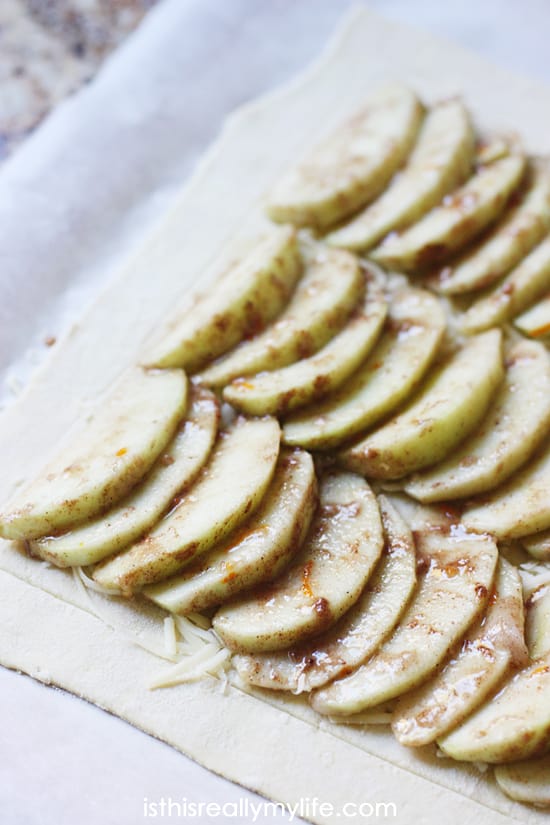 Puff pastry with a scored rectangle border (see step 4).