So maybe I'd really bring on the truffles mainly for Mother's Day, but if you could slip a few of these into my Easter basket, that would be super awesome!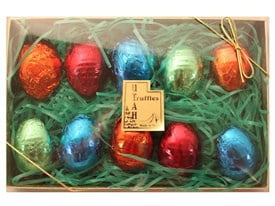 Smooth, creamy truffles are pretty much welcome any time around here, especially if they're from a local business like Utah Truffles. I tasted my first treat from Utah Truffles years back at a church event and I've never forgotten that shiny gold wrapper with its decadent, creamy smooth (did I already say that?) center. I think I had the mint truffle and then shoved a handful of milk chocolate ones in my purse for later. (Hey, they were just sitting there looking all lonely on the tables!)
I knew Utah Truffles made a mint and milk chocolate truffle in both bite-size and bars, but I had no idea they had so many other flavors AND other goodies! Just as tasty is their list of ingredients: high-quality Belgian milk chocolate and natural ingredients (except for vanillin in the almond-flavored pieces). They are also 100% gluten free and contain no artificial preservatives or trans fats. Kinda makes it sound like they should be one of our food groups, doesn't it?
I was given more than a Mother's Day's-worth of samples to taste test: bars in a handful of bestselling flavors (chocolate, mint and orange); bite-size truffles in a variety of flavors (almond, chocolate, dark chocolate, mint, orange, raspberry and toffee); chocolate-covered candied orange slices, Oreos and cinnamon bears; and a 12-piece assorted box.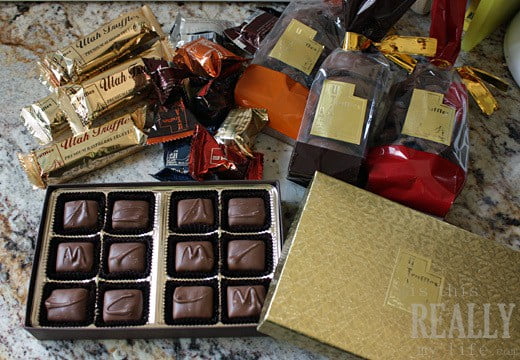 ...
Bet you can't guess which item I taste-tested first and polished off before anyone else could try a sample...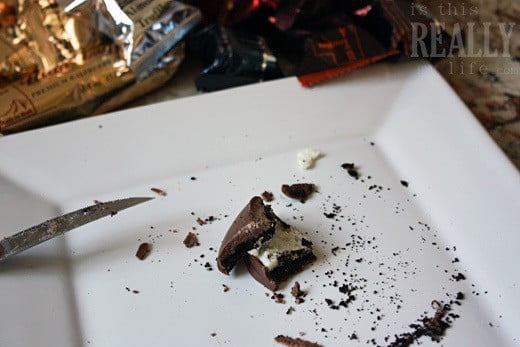 ...
Yep, the chocolate-covered Oreos. George's favorite were the chocolate-dipped candied orange slices, and I passed the chocolate-dipped cinnamon bears to my brother-in-law. His eyes lit up like a kid in a candy store—or at least a kid getting a big bag of chocolate-covered cinnamon bears for free from his favorite sister-in-law!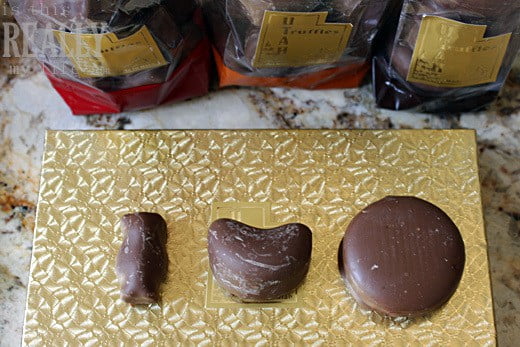 ...
My girls took to sampling the bite-size truffles (not all in one day, of course) and their faves were the almond and dark chocolate. George's was the orange...and then it was the raspberry as evidenced by this short clip:
...
I did notice that a few things had a hint of mint flavor, like the milk chocolate truffles, and I've noticed this before with their chocolates. I think the only other thing I didn't love was trying to figure out which flavor was which in the 12-piece box. Yes, there's a little diagram showing you what the different swirls mean, but a few of them looked a lot alike and a few were hard to figure out all together. It became sort of a "you never know what you're gonna get" Forrest Gump moment whenever I popped one in my mouth, but who doesn't love a surprise?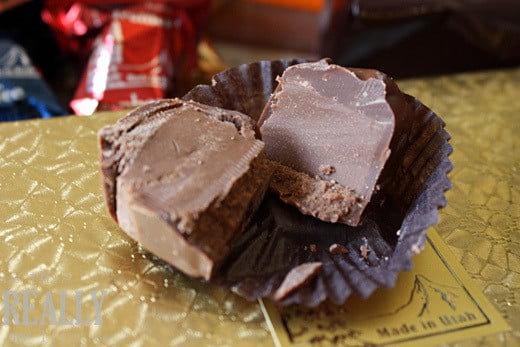 ...
You can find Utah Truffles all over Utah and in a few locations outside the state. You can also order most of their items online, which makes it super easy for you to order me some and have them shipped to my house! Oh, and I almost forgot to mention they do corporate gifts and private labeled items (think corporate events, weddings, tradeshows)
And now for the super delicious part of this post! Utah Truffles has a giveaway for ITRML readers...and you don't even have to live in Utah to win! Consider it an early Mother's Day gift from us to you!
Utah Truffles is giving away a gift box of goodies that includes a 1-pound box; 24 assorted truffle bars; 50 assorted truffle pieces; 1 bag each of chocolate-covered cinnamon bears, candied oranges, pretzels and cookies!
The retail value is around $100 and Utah Truffles will drop-ship the prize to the winner. Suh-weet, right?
Just leave a comment for your chance to win. For extra entries, you can do any/all of the following. Please leave a separate comment for each one you do (each one earns you an extra entry).
~ "Like" Utah Truffles on Facebook.
~ Follow Utah Truffles on Twitter.
~ "Like" ITRML on Facebook.
~ Become a friend of ITRML on Google Friend Connect (sidebar) and/or subscribe to ITRML.
~ Tweet about this giveaway and leave the URL of your tweet.
~ Update your Facebook status with a link to this giveaway.
This giveaway will end at midnight on Friday, April 29th so you can enjoy your truffles in time for Mother's Day (or a post-Easter private truffle party). Good luck!
Note: Winner will be notified via email. If no reply is received, a new winner will be drawn.
Disclosure: Utah Truffles provided me with the samples you see pictured above. They did not provide me with fat burners or metabolism boosters, but it was worth the extra push in spin class. The opinions and super cute video of George are all mine.