If you're like me—and I know quite a few of you are—then you don't need an excuse to buy a DQ Blizzard. If you feel like buying one (and sneaking it into a movie theater and eating the entire thing), then you totally will.
Of course having a really, really great reason to buy one is the cherry on top of said DQ Blizzard. 
…


 …
You read that correctly.
…
For every Blizzard treat sold on Miracle Treat Day (TOMORROW, July 26th), Dairy Queen will donate $1 or more to your local Children's Miracle Network Hospital.
…
Did you catch the part about your local hospital benefiting from your purchase?
For those of us in Utah, that means every Blizzard we buy this Thursday, $1 or more will go to Primary Children's Medical Center. For those outside Utah, Children's Miracle Network Hospitals has a network of 170 children's hospitals across North America.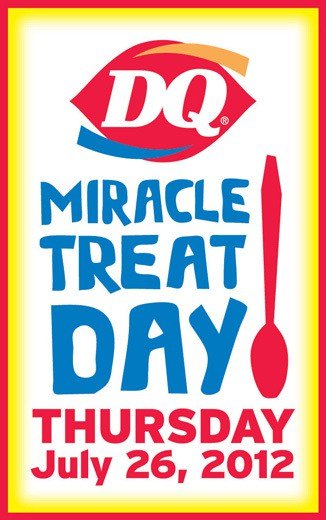 And get this—your ENTIRE DONATION is given directly to your local CMN hospital for things like research, training, equipment and uncompensated care.
By the way, uncompensated care is not care for which someone refuses to pay; it is care for which someone can't pay. I learned it may even include expenses as simple as gas so a family can drive to the hospital and say goodbye to a child before she dies.
When I heard that, my heart broke in two.
I would never have known about this fundraiser had it not been for an email I received while on vacation in California. After reading it, I turned to my mom and said something to the effect of, "It's emails like these that make me love blogging so very, very much."
The email was in invitation to have lunch with a few of the amazing people behind Children's Miracle Network Hospitals and learn more about what they do, how they do it and how I could help spread the word about Miracle Treat Day.
Children's Miracle Network Hospitals is committed to raising $1 billion every year and has raised over $4 billion since 1983…most of it $1 at a time.
CMN's Miracle Treat Day is a "sweet" way to make it effortless for the entire family to donate. Every Blizzard helps!
If I received a Double Fudge Cookie Dough Blizzard every time I donated to something, I'd donate way more often. What can I say? I'm easily bribed, but hey, everyone wins!
Here's how you can get involved:
RSVP on Facebook and invite others. DQ will donate $1 for each RSVP, up to $5,000!
Visit MiracleTreatDay.com to find a participating Dairy Queen near you, then BUY a Blizzard TOMORROW, July 26th so DQ can donate $1 to your local CMN hospital.
Take a photo of you and/or the family enjoying a DQ Blizzard on Miracle Treat Day and post it on Facebook, Twitter or Instagram. (Use the hashtag #miracletreatday so @CMNHospitals can see it too!)*
* If you let Megan (@BrassyApple) know you uploaded a photo for #miracletreatday, she will give you $1 off any ePattern in her shop (see her post here)! Megan is super, duper nice like that.
…
Here are a few more ideas for Miracle Treat Day fun:
Blindfold your kids and have them guess the flavor.
Interview kids about their dream Blizzard flavor.
Take Blizzards to a little league game or a dance class as a surprise.
Rate or rank your family's favorite Blizzard flavors.
Share the story of a Miracle Child; you can find one at http://cmnhospitals.org/champions.
…
Heck, you could even stage a blizzard-y photo booth with crazy cool props. Now there's an idea!
…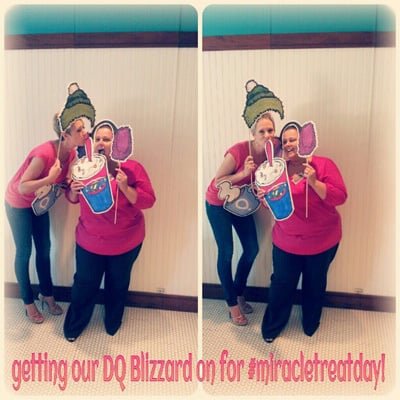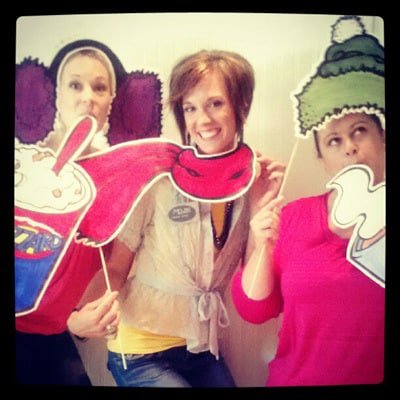 …
P.S. Feel free to "like" is this REALLY my life? on Facebook. It won't earn you an extra entry in any giveaway but it will give you warm fuzzies. Even better.
P.P.S. Don't forget to sign up for free is this REALLY my life? updates via RSS or email.
Disclosure: Children's Miracle Network Hospitals provided me with lunch in exchange for helping spread the word about Miracle Treat Day. Let's be honest, I'd totally have done it without the lunch or the photo booth.
…