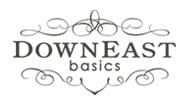 It's spring (somewhere) and spring fever is coming on quickly. (If only the actual weather would follow!) In Utah we're teased mercilessly—a 58-degree day thrown into a week of frigid temps and unwanted snow (can you tell I prefer a good book to a good ski run?), but it doesn't stop me from wanting to "spring up" my wardrobe. And one of the best ways to do it without spending your tax return before it direct deposits is with affordable yet cute accessories like the ones from DownEast Basics.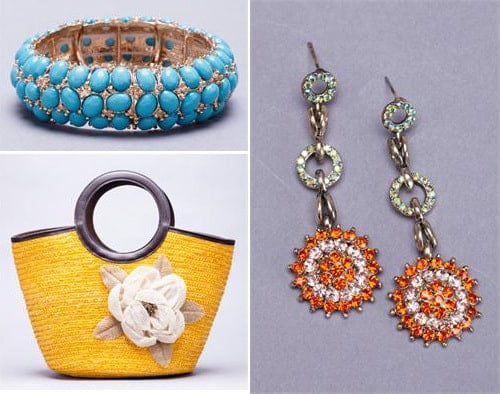 ...
Do you remember my DownEast Home & Clothing post when a group of bloggers were lucky enough to check out the furniture and clothing at our local DownEast? I spent a fair share of time perusing the furniture and clothing (and especially the designer denim selection) but only brushed over the accessories. I will be brushing over no more—at least online—because DownEast Basics now has a fun collection of accessories you can browse (and BUY) on their website! The collection includes headbands, earrings, necklaces, rings, scarves and handbags. That's in addition to their already fabulous collection of shirts, skirts, pants, dresses...what am I forgetting? Oh, yeah. Super cute swimsuits!
I gave DownEast Basics' online accessories collection a test drive and ordered a headband, ring and earrings. (The necklaces weren't my style but they were pretty cute!) I had a hard time choosing a pair of earrings because I loved quite a few, but when one of the styles was out of stock in the color I wanted, it made it easier. The headband was an easy pick—it was first in my shopping cart. And the ring? Sold the minute I scrolled down and saw it. Can you blame me?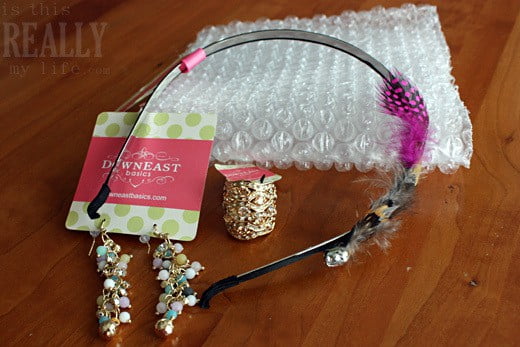 ...
I noticed the selection changes almost daily. I went online to link to the items pictured above and the only one I could find was the mini feathered headband. You might want to pick one up ASAP because it looks absolutely darling. Check it out in Madison's hair; this was mere minutes after I opened it: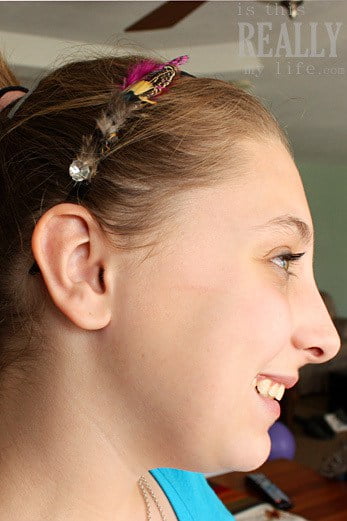 ...
And that ring? My new favorite. Seriously. I planned an outfit around it for church. It is absolutely gorgeous and cost me less than $10.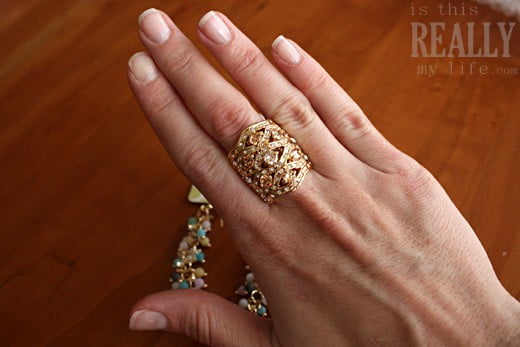 ...
I bought all three for less than $25 and it cured my spring fever, at least for the moment. But since I last shopped DownEast Basics' accessories, they've added a few new fun things like the Sweet Pea Ring and Coral Drop Earrings. And I'm still eying the Enamel Bead Bracelet, especially because it's less than $6.
My only complaint? When I was browsing the accessories, it seemed at time the subcategories didn't always match with the main category. For example, I would see something on the main accessories page, like a ring or pair of earrings, but when I clicked on jewelery, it wouldn't be there (or maybe it was the other way around...either way, it was a tad confusing). Playing around with it tonight it seemed it was more in order, but I would make sure you check the main category and subcategories to make sure you've seen it all.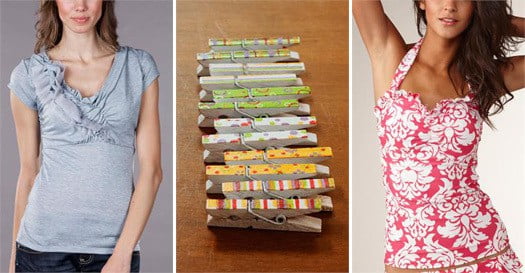 ...
A quick note: In store, DownEast Home & Clothing offers national brand name home furnishings for up to 90% off but online you'll find mainly clothing, accessories and smaller items for the home. (Items available in store only aren't able to be shipped.
Would you like to "spring up" your wardrobe a bit? I thought so!
DownEast is giving away a $25 gift card for use online or in store (winner's choice)!*
To enter you must do one of the following (required):
Follow DownEast on Facebook (sales, promotions, design & decoratiing discussions)
Follow DownEast on Twitter (exclusive deal alerts—-awesome!)
For extra entries (after you've done one or both of the required entries above) you can do any/all of the following. Please leave a separate comment for each one you do (each one earns you an extra entry). I like options so I've given you A LOT of them.
~ "Like" ITRML on Facebook.
~ Follow ITRML on Google Friend Connect (sidebar) and/or subscribe to ITRML.
~ Tweet about this giveaway and leave the URL of your tweet.
~ Update your Facebook status with a link to this giveaway.
This giveaway will end at midnight on Tuesday, April 11th. Good luck!
* If the online gift card is selected, the winner must be able to receive the products ordered with the gift card at a continental U.S. address. The gift card is redeemable in stores located in Utah and Idaho only.
*** UPDATE*** You can also head over to my friend Steph's site, The Daily Blarg, for another DownEast Basics giveaway!
Disclosure: DownEast provided me with a $25 gift card to shop their new accessories online. Had I spent my own money, my opinions—and my love for that ring—would still be the same.