When my kids celebrate a birthday, I don't put up streamers, balloons or decorate with cute banners. I do put a "happy birthday" tablecloth on the dining table, so I'm not a total slacker.
Oh, and I make fun cakes.
These aren't professional cakes complete with fondant polka dots and angles that defy gravity, but they are completely fun and extra delicious.
When Livi requested a princess doll cake for her 5th birthday, I was all over this classic birthday cake. I'd made one for Madison when she was about Livi's age, so I was a pro. It didn't hurt that the recipe was super easy:
Doll
Cake
Frosting
Sprinkles
The end.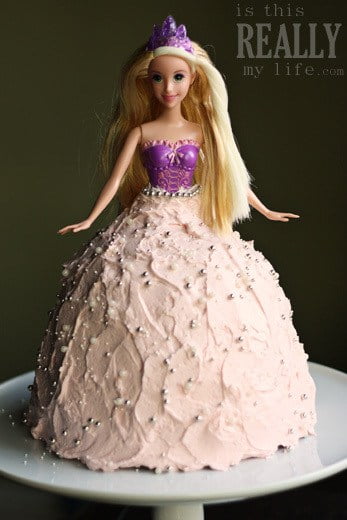 Livi isn't a fan of chocolate cake—or cake in general (whose daughter IS she? seriously!)—so I went with a white cake and buttercream frosting.
I decided to try the Tender White Cake recipe from King Arthur Flour. Reviewers said it came out a bit more dense (almost like a pound cake at times), and that was way okay with me. I don't do super fluffy cakes.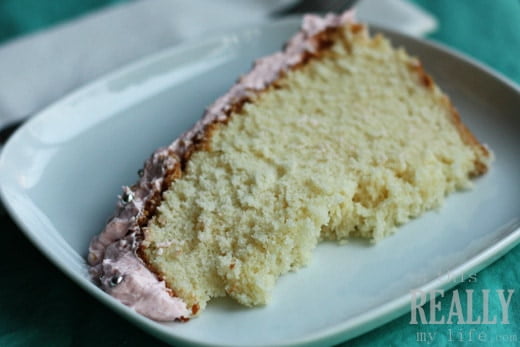 Yep, it was a dense cake and I loved it. Of course, I'm a huge fan of pound cake so that helps.
To frost this doll cake, I wanted an easy, yummy buttercream frosting I could tint the perfect princess pink. I settled on the Quick Vanilla Buttercream Frosting recipe from Food Network.
It was fabulous! The buttercream frosting was light, fluffy, smooth and sweet—the perfect complement to the moist, rich white cake. Plus it was super easy to make (my kind of recipe).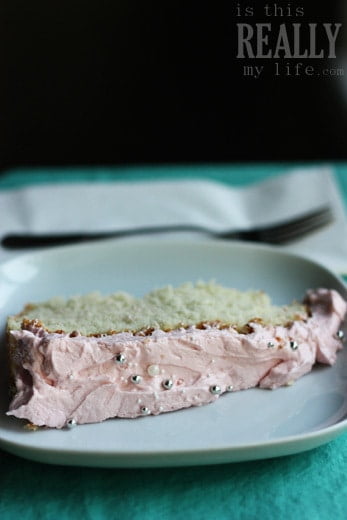 As far as baking and assembling the cake, I adapted this Barbie Doll Cake recipe from Allrecipes.com using the from-scratch white cake recipe and buttercream frosting. It took a bit longer to bake and didn't come out quite as high as recipes that have you use two cake mixes and two bowls (see this doll cake recipe from Pampered Chef and this fairy tale princess cake recipe from Betty Crocker).
I always wrap the Barbie doll in saran wrap for easy cleanup, and because the skirt isn't as high as the two-pan recipes, I simply frosted partway up the doll's waist. It might not look as nice but it does save on time (and sanity).
After the doll cake was frosted, I litereally threw small, round silver, cream and white dragées all over Rapunzel's skirt.
We might have lost a few in the kitchen...and then lost a few teeth while trying to eat them.
I then lined the top of her skirt with a row of silver dragées. (I found tweezers to be super handy with that little project.)
Voilà! A princess doll cake fit for a real princess!
Past birthday cakes I've thrown together: