Disclosure: I was compensated for this post and the DOLE Banana Dippers girls' night in. But even though they provided us with some sweet treats, all thoughts and opinions are 100% honest and all mine.
Dark chocolate-covered frozen bananas and an excuse to have a girls' night in?
SOLD.
The Saturday before schools starts seemed like the perfect night to indulge in sweet treats, great conversation and a little fun. On the menu? DOLE Banana Dippers, a new frozen treat that combines the yumminess of DOLE bananas (we have some ripening on the counter as I speak type) with the rich, indulgent taste of dark chocolate (totally good for you).
Did I mention they're 120 calories or less per serving? Original Banana Dippers are only 100 calories per serving, but if you go for the Banana Dippers with almonds, you're at 120 calories per serving. And yes, I said almonds.
No matter my Dippers of choice, I can eat four servings and call it dinner. Considering each box contains six servings and a box is just under $4, dinner cost less than $3. I think Friday pizza night just turned into Friday frozen banana night.
Can you blame me? Just look at these frozen bites of yumminess.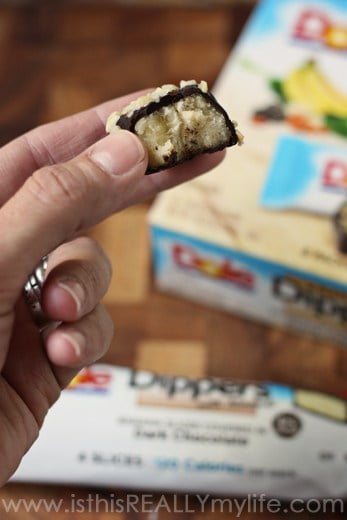 …
I'm anxious to hear what my girlfriends think of these frozen treats when they sample them at the upcoming girls' night in scheduled the Saturday before school starts. I'm thinking of the evening as a last-chance indulgence before homework, carpools and PTA meetings are in full swing.
You can learn more about DOLE Banana Dippers on the DOLE website.
When you're not indulging in dark chocolate-covered frozen bananas, you can visit DOLE on Facebook, follow DOLE on Twitter or drool over their boards on Pinterest.
…


Feel free to "like" is this REALLY my life? on Facebook. It won't always earn you an extra entry in a giveaway but it will give you warm fuzzies.
Don't forget to sign up for free is this REALLY my life? updates via RSS or email so you don't miss a single awesome post.
…