Disclosure: I was compensated for this post and the DOLE Banana Dippers girls' night in. But even though they provided us with some sweet treats, all thoughts and opinions are 100% honest and all mine.
Though DOLE Banana Dippers were the main event during our girls' night in…
But the evening included a few other indulgences because that's what a girls' night in is all about. (Duh.)  Along with the Banana Dippers, I offered friends some of my favorite indulgences like:
Peanut butter M&Ms
Swedish Fish
Sparkling grape juice
Diet Coke
…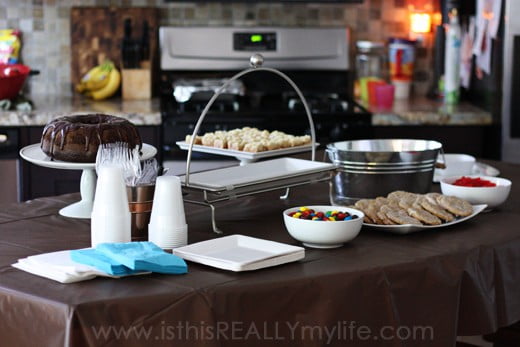 …
Also on the list? Breakfast at Tiffany's on DVD. Oh, how I love that show!
Throw in a few weekly entertainment magazines with a side of super yummy baby and life is good.
That's my adorable niece Stella. And yes, I'm her Auntie Em.
…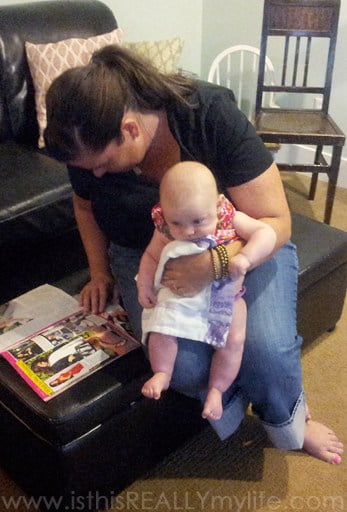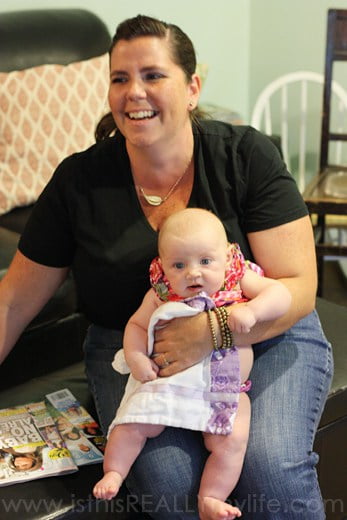 …
But like I said, those dark chocolate-covered frozen banana slices from DOLE were the main event.
In case you haven't heard about these goodies, DOLE Banana Dippers are a new frozen treat that combines the yumminess of DOLE bananas with the ever indulgent taste of dark chocolate. At 120 calories or less per serving, they are truly guilt-free…unlike pretty much everything else featured in the above spread.
I'd say a good 90% of the guests agreed those little Dippers were delicious. One gal preferred them slightly defrosted, but she's also not a fan of sinking her teeth into ice cream.
I imagine she's one of those people who mixes her ice cream until it's soup. I'll eat it no matter its texture. Hello…it's ice cream!
Of course the evening wouldn't be complete without sending my guests home with a few little goodies to indulge in later including a gel eye mask and coupons from DOLE.
I found DOLE Banana Dippers at my local Walmart nearly hidden among the frozen fruit section—not to be confused with the frozen treats section. A box contains six servings is just under $4. Yay for a second reason to indulge!
You can learn more about DOLE Banana Dippers on the DOLE website.
When you're not stuffing your face with indulging in dark chocolate-covered frozen bananas, you can visit DOLE on Facebook, follow DOLE on Twitter or drool over their boards on Pinterest.
…


Feel free to "like" is this REALLY my life? on Facebook. It won't always earn you an extra entry in a giveaway but it will give you warm fuzzies.
Don't forget to sign up for free is this REALLY my life? updates via RSS or email so you don't miss a single awesome post.
…