I know! If you count these DIY mini clipboards and my "she's about to pop!" baby shower tags, that's like two whole crafty tutorials in 10 months. I swear it's a new record.
…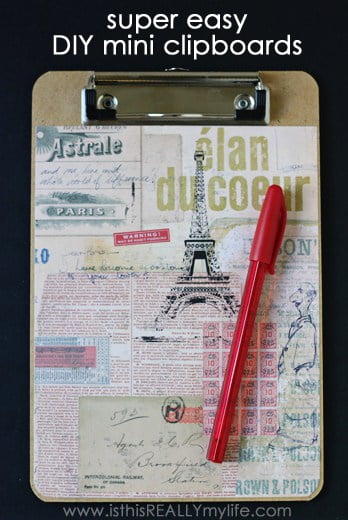 …
The idea for these DIY mini clipboards came from a need for some sort of chore responsibility chart to keep the kids from running amok and their mom from going insane. As fun as nagging your kids can be, it gets old really quickly.
Nagging your kids is as much fun as nagging your husband. I'd rather go without Diet Coke for a week.
I wanted something I could hang on their wall or line up in our laundry room, so a large clipboard was out of the question. And with four kids I really didn't have a good spot for a larger whiteboard or magnet board. The cute chore charts on Etsy were out of my price range, and as cute as this Post-It Note chore chart is, I knew I'd never pull it off. A mini clipboard with which I could change weekly responsibilities (because things change all the time around here) seemed like a perfect fit.
Believe it or not, this project took like 5 minutes if you don't count drying time. It was so easy I wanted to make mini clipboards all day…either that or sing the praises of Mod Podge until the cows (or kids) came home.
As PTA secretary, I may have made one for our elementary school office so parent volunteers can track at-home hours.
Here's what you'll need for these DIY mini clipboards (clockwise from top left):
Foam brushes
Mod Podge
Mini clipboards (I found mine at Walmart for just over $1)
Ballpoint pens (optional)
Sticky notes (optional—I plan to use mine to leave the kids positive feedback)
Scrapbook paper
Mini rolling pin, not pictured above (not a must but it does work wonders; you can use a credit card or plastic scraper too as long as you're gentle)
…
And here's how you put these babies together:
Remove any price tags or labels from the clipboards and wipe free of dust.
Cut a piece of your favorite scrapbook paper to a size that fits just inside the edges of the clipboard and just under the actual clip. I used scissors to freehand curved edges for the bottom two corners.


…





…

Gently center the paper on the clipboard; press from the center of the paper to the outside to help remove any air bubbles.
Firmly roll the mini rolling pin back and forth to remove any remaining bubbles. You can also use a credit card or plastic scraper; just be careful!


…





…

Let dry at least 15 minutes.
Brush a light layer of Mod Podge over the entire front of the clipboard; be sure to avoid the metal clip.


…





…

Let dry at least 15 minutes.
Pat yourself on the back for yet another craft well done.
Before I forget, here's a great little tutorial on how to apply Mod Podge. Yes, I had to google it before starting. Oh, and that little roller has come in super handy. It's the Baker's Roller from Pampered Chef.
I bought different color ballpoint pens for each of the kids. I'll be attaching those to the mini clipboards so they can easily—and oh so happily—check things off the list. And those cute sticky notes are for leaving love notes for jobs well done.
I'll probably leave myself a few too.
I think these DIY mini clipboards turned out pretty cute! Now all I need to do is type up the chore charts. I'm sure then our home will be free of unmade beds, shoe piles, overflowing recycle bins and sticky counters.
Hahahahahahaha…
…


Feel free to "like" is this REALLY my life? on Facebook. It won't always earn you an extra entry in a giveaway but it will give you warm fuzzies.
Don't forget to sign up for free is this REALLY my life? updates via RSS or email so you don't miss a single awesome post.