Though I have taken a few baby steps towards container gardening, I feel like I still have so much to learn when it comes to home-related DIY projects.
You can stencil a ceiling? Really?!?
Good thing the new Jordan Valley Home & Garden Club is willing to teach me! Even better, I get to learn new things during their Summer Soiree.
Who doesn't love a good summer soiree? I mean, just saying "summer soiree" makes me exceptionally happy.
But wait. First let me tell you a bit about the Jordan Valley Home & Garden Club:
The Jordan Valley Home & Garden Club was founded to provide learning opportunities specifically geared to do-it-yourself homeowners. Landscaping is an important part of setting the home's tone. The Club will provide a wealth of landscaping and garden design education, but there will also be a mix of interior and exterior DIY projects—a little something for everyone.
I like when there's a little something for everyone. Little somethings are the best!
Even better? These little somethings are FREE. The Jordan Valley Home & Garden Club doesn't charge fees for members. Summer mini classes will begin July 17th at noon. The classes are FREE as well (yay for free!). Simply register online if you'd like to attend. Information will be available on the Club's Facebook page following each class.
Now back to the Summer Soiree...
To kick off the Club's summer activities, they're hosting a fabulous Summer Soiree & Garden Tour on June 9th at 6 p.m.
The event features some well-known home and garden bloggers including:
The evening features keynote speakers, mini classes, live music, munchies and mingling.
Okay, I'm going for two reasons. One, I've always wanted to attend a summer soiree. And two, I absolutely adore Leanne and take advantage of every opportunity to see her. She's totally adorable. And crafty. And organized. (That's Leanne on the right during a candid moment at SNAP!)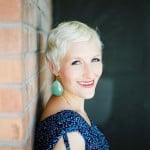 Wait, make that three reasons. Critically acclaimed singer/songwriter Sarah Sample is performing during the soiree's social hour (8:15  to 9:45 p.m.). In other words, live music, hors d'oeuvres, a beautiful garden setting and good friends all in one place.
I like reason number three. A lot.
If you need another reason to attend (I don't, but whatever), the Jordan Valley Home & Garden Club Summer Soiree will feature giveaways including a gorgeous rug featured in a recent issue of Country Living and furniture from Sweet Pickins and Forsey's Furniture.
Shall we soiree together? I think so. Tickets are just $10 to the June 9th Summer Soiree and are available online at Eventbrite.com.
...