Do you remember how much fun we had dressing up DiGiorno pizzas for Superbowl Sunday? Man, those chopped artichoke hearts and fresh spinach were yummy on that DiGiorno.
.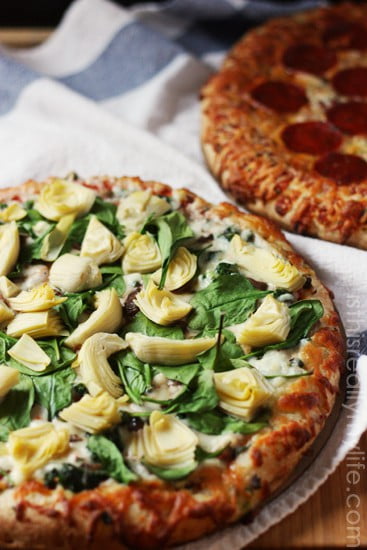 .
Well, DiGiorno is back and better than ever, especially if you're a thin crust fan like me.
Don't worry, if you don't like thin crust pizza, we can still be friends.
But if you are a lover of the thin crust, say hello to DiGiorno Pizzeria!™ Thin and goodbye to family pizza night as you knew it because it just got tastier and a heck of a lot easier.
.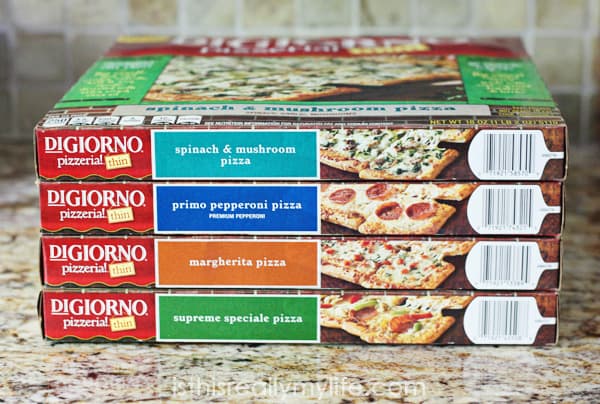 .
Family pizza night at our house involves my driving during the busiest time of day to pick up a couple cheap, hot pizzas. As much as I love pizza, I can't say I do the happy dance while making the round trip. Plus, the establishment we frequent has yet to offer thin crust anything, so I'm consistently disappointed.
I hate being consistently disappointed.
Enter DiGiornio Pizzeria!™ Thin, a pizza so perfectly thin (but not too thin) and crispy (but not too crispy), you'll become addicted at first bite. And the furthest you have to travel is from freezer to fridge, a quick commute even during the busiest of rush hours.
DiGiornio Pizzeria!™ Thin has a preservative-free crust that is proofed for nearly 90 minutes before being baked in a 700 degree oven—the secret to its thin and crispy crust. Its unique shape (square!) is drizzled with extra virgin olive oil for a hint of flavor and topped with a specially-crafted sauce made from scratch using vine-ripened tomatoes, basil, thyme and oregano.
.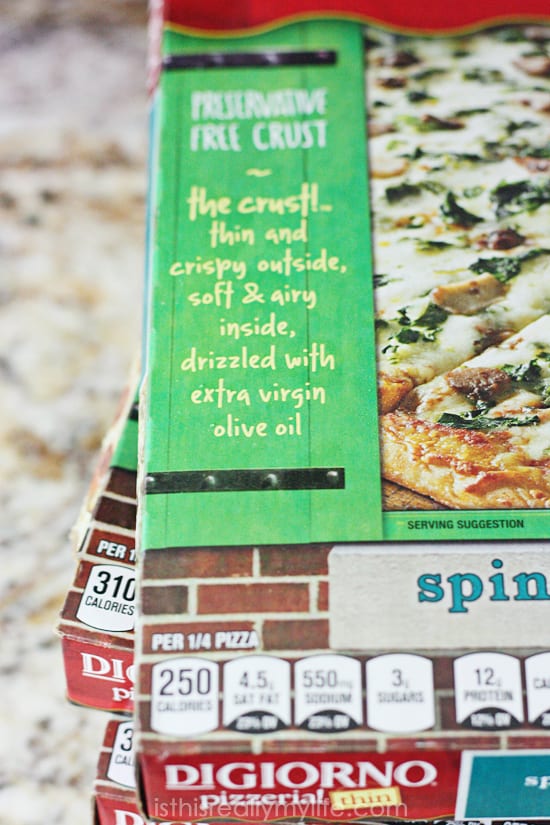 .
And you can taste those herbs, trust me. That crust is so flavorful I kind of wish they'd sell it plain so I could bake it and dip it in a bit of olive oil and balsamic vinegar. Mmm…
Atop the crust is even more awesomeness: 100% real cheese, premium meats, vegetables picked at the peak of ripeness and no artificial flavors. Pizzeria!™ Thin doesn't need 'em with all the other flavors going on.
.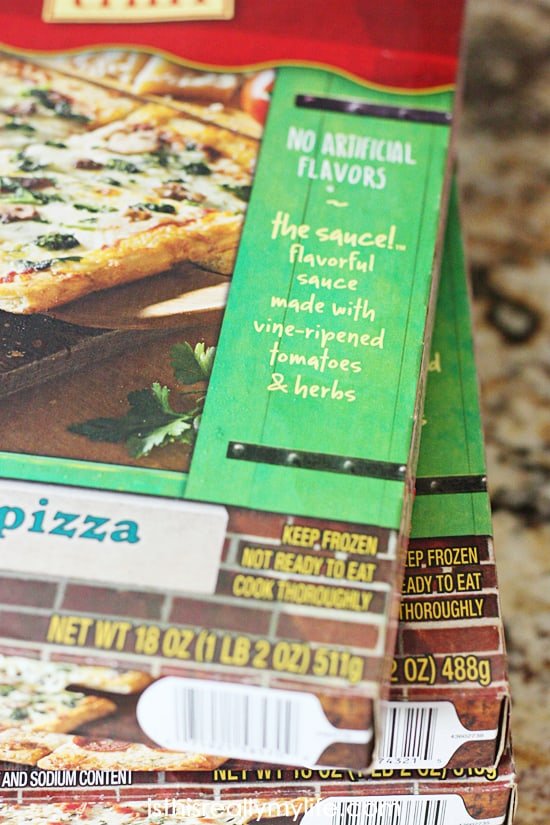 .
We bought all four Pizzeria!™ Thin pizzas because, well, why not?
Supreme Speciale: Caramelized onions, red & green peppers, premium pepperoni, Italian sausage
Primo Pepperoni: Premium pepperoni
Margherita (unique to Thin): Diced roma tomatoes, basil, and mozzarella, parmesan, romano and asiago cheeses
Spinach & Mushroom (unique to Thin): Spinach, garlic, mushrooms (my favorite)
.
For our first truly at-home (i.e., I didn't have to leave the house) family pizza night, we baked up the Primo Pepperoni and Spinach & Mushroom pizzas. A few minutes to preheat the oven and 15 minutes later we were enjoying freshly baked thin crust pizza.
.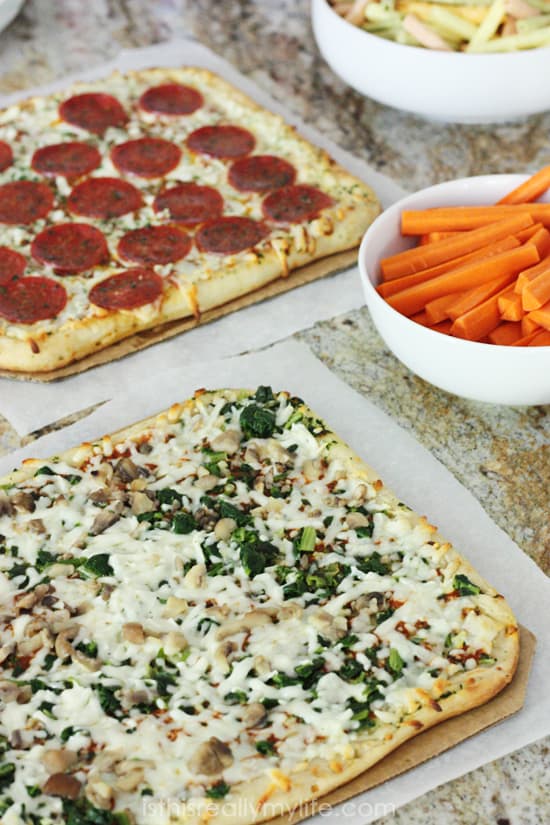 .
Let's take a closer look at that crust, shall we?
.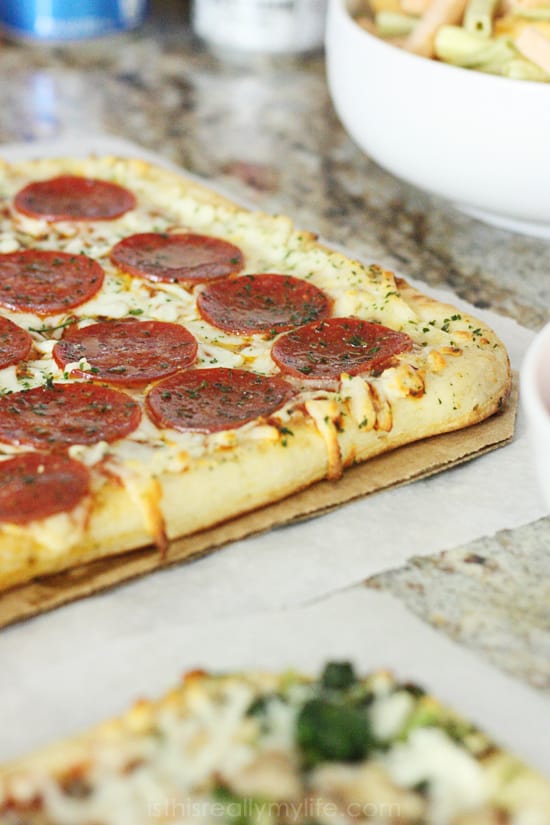 .
I seriously couldn't get over the crunch of the crust as we took the pizza cutter to it.
.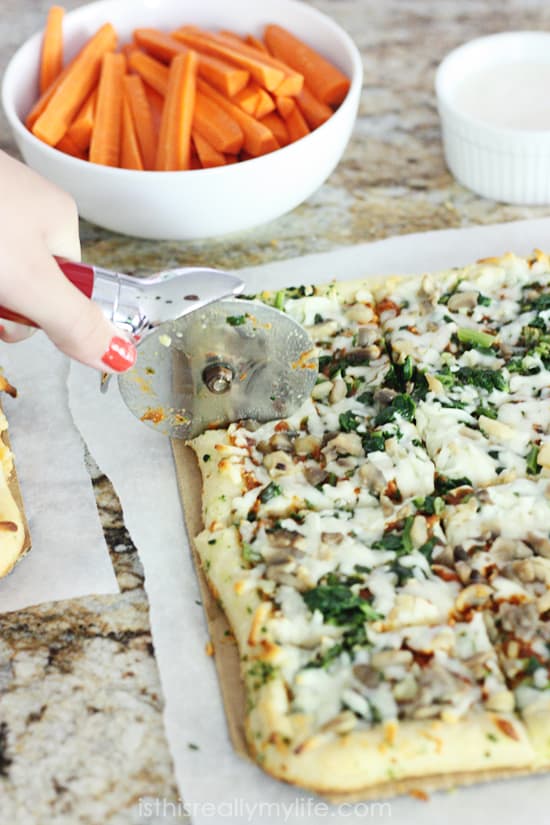 .
And the flavor…oh. my. goodness. That crust is some of the best pizza crust I've tasted in a long time. And I don't think it tasted that good just because I didn't have to get in a minivan to pick it up.
.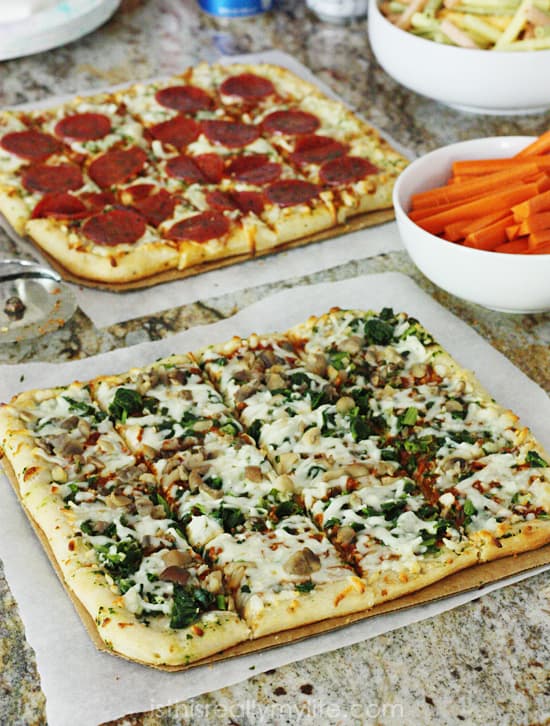 .
Nathan missed our family pizza night (stupid work) but he did get a handful of leftovers. "I like this pizza!" he exclaimed from the kitchen. And that was eating it cold. He had no idea it was a frozen DiGiorno, so that's a pretty decent endorsement.
DiGiorno is so confident you'll agree with my husband, the company is offering a Love It Or It's Free Guaranteed refund. If for some reason don't like the new Pizzeria!™ Thin, you can visit DiGiorno.com for more information on how to receive a refund.
DiGiorno is also super excited to hear what fans think of the new Pizzeria!™ Thin pizzas. Fans can taste the new pizzas and then visit DiGiorno on DiGiorno Facebook or Twitter to share feedback and pictures using the hashtag #YouBeTheJudge.
I was selected for this opportunity as a member of Clever Girls and the content and opinions expressed here are all my own.
.
If you're looking for more honest reviews, you should browse my ITRML reviews Pinterest board.
.
Follow Emily Hill's board ITRML reviews on Pinterest.
.

Feel free to "like" is this REALLY my life? on Facebook. It won't always earn you an extra entry in a giveaway but it will give you warm fuzzies.
Don't forget to sign up for free is this REALLY my life? updates via RSS or email so you don't miss a single awesome post.
.