Disclosure: Even though I was compensated for this review of DiGiorno pizza, all thoughts, opinions and slices of spinach, mushroom & garlic pizza are 100 percent honest and mine.
So here's the truth. I rarely buy frozen pizza. If we do pizza for Super Bowl Sunday, it's usually some sort of bake-at-home deal purchased the day before. But I often pass the frozen pizzas while grocery shopping and wonder if I should give them a shot. They would make for easy last-minute entertaining and might be nice to have on hand if appetites are larger than expected (or multiple overtimes have us still watching the game Monday morning).
...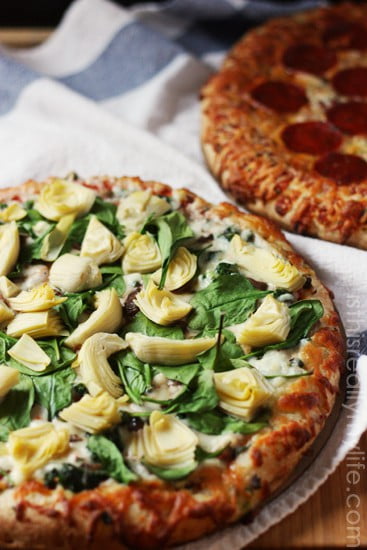 ...
When I was asked if I'd be interested in a post featuring DiGiorno pizza, it gave me the chance to give frozen pizza a try. Truthfully, DiGiorno was one of the top three on my list.
Of course, I was okay giving the kids pepperoni and four cheese, but for the more grownup palates, I went with the spinach, mushroom & garlic and then threw in some fresh spinach and a handful of chopped artichoke hearts.
...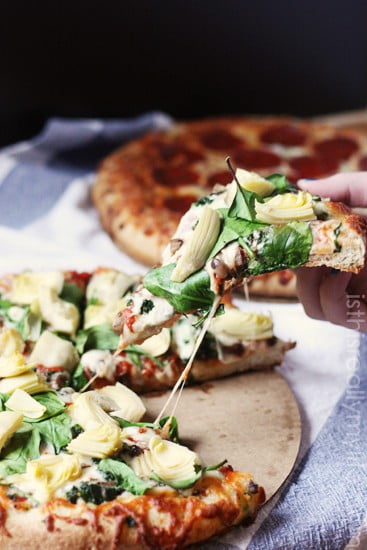 ...
Oh my goodness, it was good. And then I kept thinking about all the other fun things I could do to dress up the DiGiorno pizzas and how fun it would be to serve a variety of them as part of a Super Bowl game day pizza buffet. Here are some fun combinations I came up with:
Four Cheese pizza: Canadian bacon and pineapple, baby!
Pepperoni pizza: Spicy sausage and fresh mushrooms; sliced olives and fresh mushrooms
Spinach, Mushroom & Garlic pizza: Go all veggie with thinly sliced zucchini, chopped fresh tomatoes and diced red onion
...
NOTE: If you're going to add fresh toppings, add those 10 minutes before the pizza is done cooking. That seemed to work well when we tried it.
Our local store didn't have the DiGiorno Spicy Chicken Supreme but I'd love to give that a try next time. Perhaps I'll have to pick up one for this Sunday...and another cheese pizza for this girl.
You can find DiGiorno online at DiGiorno.com, follow them on Twitter and "like" them on Facebook.