Disclosure: I am a brand ambassador for Diet-to-Go. But even though Diet-to-Go compensated me for this post, my thoughts and opinions are 100 percent honest.
HAPPY NEW YEAR'S RESOLUTIONS!
Or maybe not-so-happy New Year's resolutions depending on how successful you are at setting and keeping them. You know you've been thinking about them—all those resolutions you should do in 2014: spend less, stress less, give more, play more, sleep more. And don't forget the most popular of New Year's resolutions of eating healthier, exercising and losing weight.
Before you go all fad diet to lose the holiday weight (or 2013 weight), let's take a moment and remember what pretty much every article in fitness magazines says about healthy weight loss:
A sensible (i.e., common-sense) diet plan and consistent exercise to lose weight AND keep it off.
If you're ready to talk no-nonsense weight loss, then you're in luck! Diet-to-Go is hosting a one-hour Twitter chat focusing on your goals for losing weight in the new year. Here are the details:
The Anti-New Year's Resolution: Using common-sense to make lifelong, lasting changes towards health. In other words, it's not about a diet or quick-fix, it's about a lifestyle change.
When: January 7th at 9 p.m. EST
Giveaways: 1 randomly drawn tweeter will win a Fitbit Flex Wristband or a Fitbit scale; 3 randomly drawn tweeters will win 1 week of free meals.
…
Let's not forget about that 1,000 meal giveaway I mentioned earlier…
This year, Diet-to-Go will be giving away 1,000 meals (that's $9,000 worth of meals!) throughout the month of January. Starting January 1st, you can enter for your chance to win 50 different prizes from Diet-to-Go:
5 winners will receive a free month of meals
20 winners will receive a free week of meals
25 winners will receive a $50 Diet-to-Go Gift Card
…
For more details, click here.
You can enter the giveaway RIGHT HERE. How awesome is that?!
…
To jump start your New Year's resolution to eat healthier, try this island green smoothie. It's my absolute favorite green smoothie (probably because you can hardly taste the "green").
…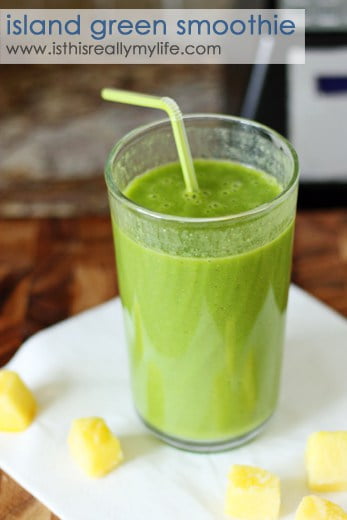 …


Feel free to "like" is this REALLY my life? on Facebook. It won't always earn you an extra entry in a giveaway but it will give you warm fuzzies.
Don't forget to sign up for free is this REALLY my life? updates via RSS or email so you don't miss a single awesome post.
…