Disclosure: The following post is sponsored by FitFluential LLC on behalf of Detour Bar. All thoughts and opinions are 100 percent honest and super healthy.
Believe you me, I've had my fair share of healthy snack bars and protein bars. I've found only a few I like—and I usually like them not because they're packed with protein or feature some sort of chocolaty peanut butter flavor but because they're saturated with sugar. How else can you keep a "healthy" snack bar from tasting too healthy?
…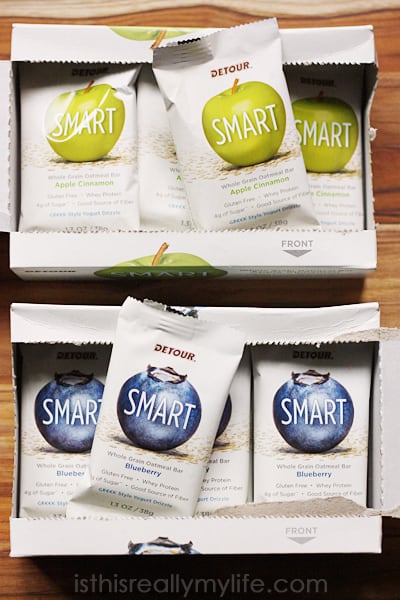 …
Apparently Detour has figured it out. Their new Detour SMART Bars combine healthy snacking (lower calories, organic ingredients), high protein (whey vs. soy, double-digit protein) and energy (whole grain carbs) without sacrificing taste.
Trust me.
I've tasted both the Apple Cinnamon and Blueberry Detour SMART Bars and they really do taste good…even with only 4 grams of sugar.
…

…
I don't know about you, but stats on a package don't mean much unless you can compare them with the competition. Perhaps this little graphic will give you a better idea as to how amazing these Detour SMART Bars really are… because they have impressive stats AND taste so much better than their cardboard counterparts.
What most stands out to me is the protein source (we get way too much soy in our diets as it is) and the lower sugar, fat and carb counts. It's like the perfect pre- and post-workout snack. Ever.
…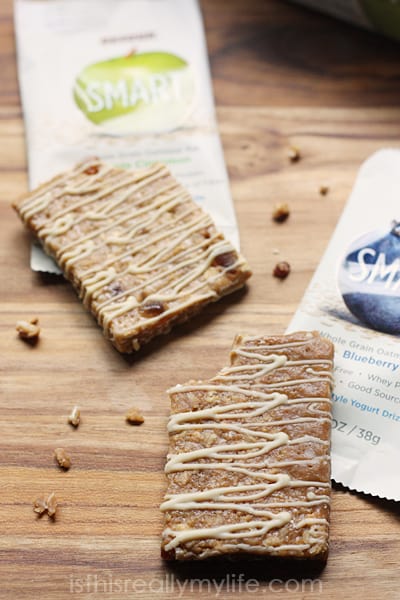 …
Don't let the photo fool you. We polished off those partially eaten SMART Bars in no time.
And for those of you trying to make sure your kids eat a healthy school lunch, Detour SMART Bars are a great alternative to fruit snacks and granola bars. With that Greek yogurt drizzle atop the bars, even the pickiest eater will enjoy these during snack time.
To learn more about Detour and their scrumptious SMART Bars, check them out onilne at DetourBar.com. You can also find them on Facebook, Twitter and Instagram.
You'll want to find me on Instagram as well because I'll be hosting a giveaway for two boxes of Detour SMART Bars.
Giveaway will end August 27th, so don't miss it!
…


Feel free to "like" is this REALLY my life? on Facebook. It won't always earn you an extra entry in a giveaway but it will give you warm fuzzies.
Don't forget to sign up for free is this REALLY my life? updates via RSS or email so you don't miss a single awesome post.
…