I wrote this post while participating in a blog tour conducted by Clever Girls on behalf of Dannon. I have been compensated for my time commitment to the program but my opinions are my own.
For more information and recipe ideas, visit www.oikosyogurt.com or www.Facebook.com/oikos. I was selected for this sponsorship by the Clever Girls Collective, which endorses Blog With Integrity, as I do.
...
Let me start with this:
My family—or rather, my 4-year-old and 14-year-old— are huge fans of Dannon's Light & Fit vanilla yogurt. In fact, I buy at least three quarts of it every time I go to the grocery store. They eat it for breakfast and lunch...and sometimes as a side dish for dinner. Topped with granola, it's the perfect snack. (We've tried other yogurts, organic included, and they beg me to buy Dannon. Every. Time.)
And follow it with this:
Though I don't do the quarts of vanilla yogurt, I do love the Dannon Light & Fit smoothies. I downed those babies like they were going out of style. Unfortunately, they did go out of style and I haven't seen them on the grocery store shelves in a while. I'm kinda sad about it, really. More than sad. Maybe a little depressed.
That being said, let me tell you my thoughts—or rather thought—on the new Dannon Oikos Greek Yogurt: I am not a fan.
...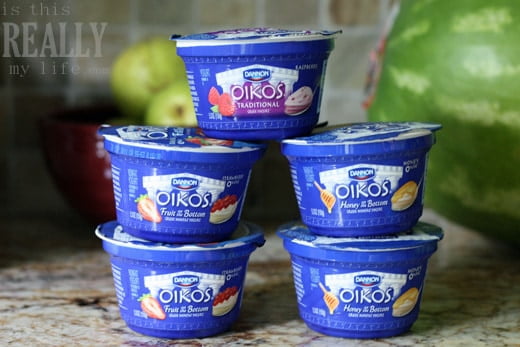 ...
I gave both the fruit-on-the-bottom strawberry...
...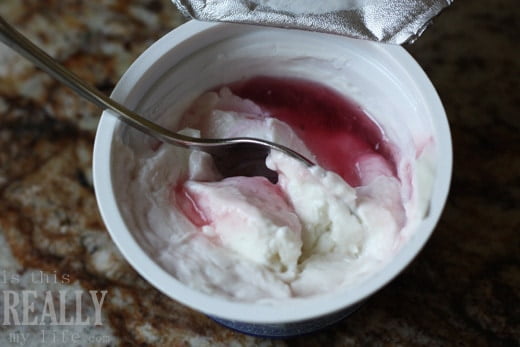 ...
...and honey flavors a try.
...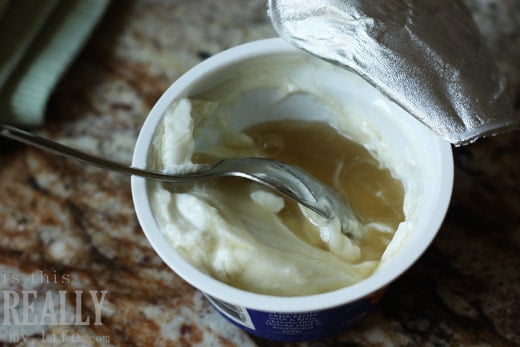 ...
Dannon uses an authentic Greek straining process to give their Oikos yogurt a rich, creamy and thick texture but it's that extra thick texture that didn't sit well on my tastebuds. It did sit well on my spoon, though.
...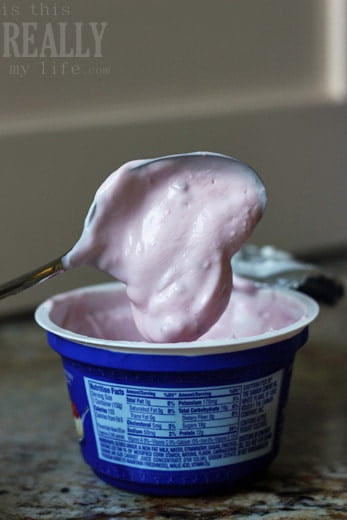 That Oikos is seriously defying gravity!
...
You know, it could also be due to my limited experience with Greek yogurt. I've only ever used it in homemade fruit smoothies, and I've never eaten it plain or flavored or even plain topped with something yummy like granola or fresh fruit. I wasn't used to the slightly tart taste and it was a bit much for my sweet-lovin' tastebuds.
Though you won't find me eating Dannon Oikos straight from the container, I am a huge fan of using it in place of typical yogurt in smoothies and other recipes because it is lower in fat than regular low-fat yogurt. (Dannon Oikos plain and fruit-on-the-bottom Greek yogurt contain 0% fat; Oikos traditional blended varieties contain about 3% fat). It also has twice the protein found in most low-fat yogurt. And that thick texture? I don't love it straight from the cup but it is great for thickening smoothies!
...
Have you tried Dannon's new Oikos Greek Yogurt?
What was your first (or second) impression?
...
P.S. Maybe I'm just smoking something, because Dannon Oikos berry flavors (0% fat) beat Chobani 2 to 1 in a taste test.* (Guess I won't be buying Chobani any time soon!)
P.P.S. The Greek word for "yes" is "ne" and the Greek word for "no" is "óχι." Gosh, I love the interwebs!
...
Disclosure: I have partnered with Dannon to help promote the Dannon Oikos Greek Yogurt Series. I have been compensated for my time commitment to the program, which includes writing about the promotion and product. However, my opinions are entirely my own and I have not been paid to publish positive comments.*
* Obviously.