Last Saturday Nathan and I visited the new Da Vinci exhibit at The Leonardo.
It was AMAZING.
The hour and a half we had there was not nearly long enough to take in Da Vinci's sketchbooks, inventions, paintings and pure genius. I could have spent a good hour in the wing dedicated to the 25 newly solved mysteries of the Mona Lisa.
…
…
One of the most memorable excerpts from Da Vinci's life was this thought on nature:
…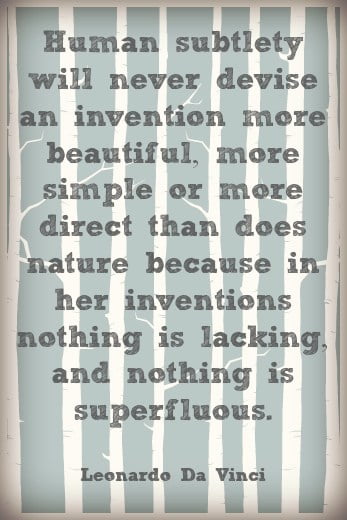 …
Amen.
…


Feel free to "like" is this REALLY my life? on Facebook. It won't always earn you an extra entry in a giveaway but it will give you warm fuzzies.
Don't forget to sign up for free is this REALLY my life? updates via RSS or email so you don't miss a single awesome post.
…