A couple Sundays ago our church had their annual Primary Program, a special program put on by the 3- to 11-year-old children in our LDS ward. It is a skit of sorts with songs, hymns and the spoken word (not THAT spoken word, mind you, though that would be cool).
For me it is my most favorite Sacrament meeting and the highlight of the year. There's nothing like the sounds—and songs—of children to lift the soul. How could you not love those sweet Sunbeam voices? And I've never been more proud than when I heard that towhead son of mine successfully repeat his line: "Because Jesus Christ was resurrected, we will be too." Total high-five on that one! (Maybe there is hope for my kids after all.)
What I thought super nifty this time around were the handcrafted programs for the meeting. Here are George's and Lauren's designs: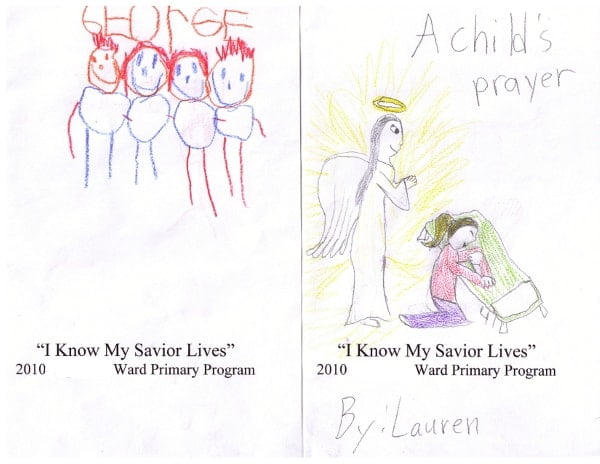 Seeing hand-drawn pictures, which were most often about family or prayer or Christ, was a wonderful way to start off the one-hour Primary program. Of course everyone made sure the programs were returned the original artists after the program so their proud parents could cherish them (or scan them and blog about them).
This year the Primary leaders included the nursery-age children in the program. They learned the first verse of I Am a Child of God and sang it for the congregation. I so wish I had that on video to share—it brought tears to my eyes to see all those tiny children and hear their angelic voices. Of course after Livi returned to sit with us, she let everyone know she wasn't happy about not being able to sing any more songs with the older kids. She was pretty put out, in fact.
I was able to get Livi to sing a solo of the first verse of I Am a Child of God for you here at home. And after she got a taste of seeing herself on video, she insisted on singing two more songs for you as well:

…
Just in case you had a bit of trouble understanding Livi's rendition, here are the lyrics to the first verse and chorus of I Am a Child of God, one of the most beloved (I'm pretty sure) Latter-day Saint hymns:
I am a child of God,
And he has sent me here,
Has given me an earthly home
With parents kind and dear.
Chorus
Lead me, guide me, walk beside me,
Help me find the way.
Teach me all that I must do
To live with him someday.
P.S. If you're familiar with Greg Olsen's artwork, his I Am a Child of God is an absolutely beautiful and wonderful book reminder that we are all children of a Heavenly Father who loves us…unconditionally. (It's a permanent fixture in our coffee table stack.)
P.P.S. Did you catch Livi's dainty burp a few seconds into the first song? Yep, that's my kid.